First Minister Carwyn Jones in call for Robin Hood tax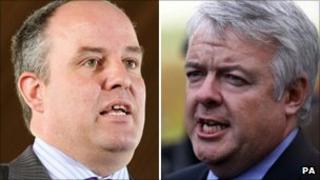 First Minister Carwyn Jones has said he backs the introduction of a tax on international financial transactions.
He joined a campaign by Oxfam for a levy on large transactions of currencies, bonds and shares to raise money for tackling climate change and poverty.
But the Welsh Conservatives called the first minister "naive".
Critics say there is a danger of banks passing on the cost of the Robin Hood tax to their customers.
Oxfam says financial institutions should pay the tax as a way to contribute to tackling an economic crisis that was caused by their sector.
The Archbishop of Canterbury and Microsoft founder Bill Gates are among those backing the idea.
But the UK government says if it is introduced it must happen globally.
Prime Minister David Cameron has opposed the unilateral introduction of the tax in Europe, as it would see jobs lost to other parts of the world.
'Responsibility'
Mr Jones insisted he was not "anti-banking", but a tax set at the right level was "perfectly reasonable".
"Some parts of the financial services industry bear a share of responsibility for our current economic difficulties," he said.
"Social responsibility is well understood in Wales and I am confident that people across the country, and across the political spectrum, will endorse this tax."
A tax on payments from one currency to another was originally proposed in 1972 by the Nobel-prize winning American economist James Tobin.
With one of the world's biggest financial services industry, the Welsh Tories said the UK would be hit disproportionately hard if centres such as Hong Kong and New York were not included.
Tory assembly leader Andrew RT Davies said: "It is all very well for the first minister to deny he is anti-banking but giving his agreement for a Tobin Tax to be implemented without international agreement shows great naivety on his part."