St David's Day arrives early as MPs question ministers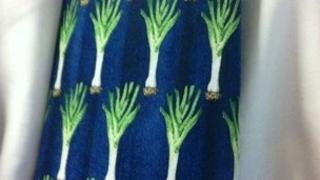 St David's Day is a long time in politics.
Here at Westminster, Welsh Labour MPs held their bash in honour of our patron saint last night.
This afternoon, the prime minister will welcome guests for a reception in Downing Street. Invites have gone out to Welsh stars of stage, screen and sport.
Tonight, Plaid Cymru will be pushing the boat out - previous guests at Plaid bashes have enjoyed quails' eggs and a harpist.
And tomorrow, the Welsh Liberal Democrats will ensure they don't get left out by opening a bottle or two.
If that were not enough to fuel a mass outbreak of hiraeth among the London Welsh, MPs were today given their monthly chance to question Cheryl Gillan in the Commons.
The daffodils were out, even if most were artificial. Her deputy, David Jones, wore a tie (see above) that trumped most buttonholes for patriotism.
Question time was a chance for the secretary of state to update MPs on her work. An alien visitor could be forgiven for assuming that work largely involved visiting tourist attractions and businesses.
She also updated MPs on Wales Office plans to mark St David's Day. She mentioned the prime minister's reception and told us the Welsh flag would be flying over No 10 tomorrow.
Mrs Gillan will also be hosting sick children at her office, attending a Commons church service and a debate on Welsh affairs before attending the traditional St David's Day dinner in London.
Oh, and she told MPs she had also presented the prime minister with a bunch of daffodils from the national botanic garden - and her own Whitehall office is "full of daffodils".
The Speaker, who had earlier told Mrs Gillan her answers were "immensely courteous but a bit too long", told MPs there was almost enough material in that reply for an adjournment debate.
She did find time to criticise First Minister Carwyn Jones for his support of a financial transaction tax and stewardship of the NHS.
On health, she added: "I hope the Welsh Labour government emulate our reforms."
Given the bumpy parliamentary passage of the Health and Social Care Bill that's not an answer designed to increase the pace of legislation in Cardiff Bay.
There was also time to reflect on the sporting weekend, with commiserations for the "robbed" Cardiff City and praise for the Welsh team who beat England.
"It brought a tear to a girl's eye to see that team doing so well," she said - an answer with sufficient ambiguity to withstand repetition in her own Buckinghamshire constituency.