Budget 2012: Older people 'significantly worse off'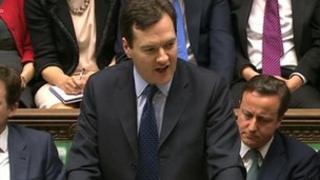 Pensioners will be "significantly worse off" thanks to changes to tax allowances announced in the Budget, the Older People's Commissioner for Wales has said.
Ruth Marks said older people would worry about increased living costs.
The Treasury insists there will be "no cash losers" as a result of changes announced by the chancellor.
But political opponents have attacked the measure, branding it a "granny tax".
The amount over 65s can earn tax free is being frozen from April 2013.
Meanwhile, the threshold at which everyone else starts paying tax rises from £8,105 next month, to £9,205 in 2013, creating what George Osborne says is a "much simpler system for everyone".
Some 42,000 people in Wales will be taken out of paying income tax altogether as a result of the rising threshold.
Mr Osborne told the BBC no pensioner would be worse off in cash terms, and said state pension increases would leave them better off.
But HMRC says about 4.4m people across the UK will lose and average £83 in real terms by 2013-14. At the last count there were 255,000 people aged over 65 paying income tax in Wales.
'Struggling'
Ms Marks said: "Older people in Wales who have worked hard to save for their retirement could be significantly worse off under this proposal paying £259 more in tax a year on an income as low as £10,500.
"Older people regularly tell me that they are struggling to pay their bills and to keep warm living on a fixed income, in these already difficult economic times.
"Many older people will worry about the potential loss of income, which will leave them even more exposed to future increases in food and fuel costs."
She welcomed the introduction of a flat-rate pension of £140, but said it was "disappointing" it will not happen until 2016.
Wales Office minister David Jones told BBC Radio Wales that pensioners were progressively "becoming better and better off".
The basic state pension will rise by 5.2%, or £5.30 for a single person's full pension, next month.
Mr Jones said: "So to spin it as a tax on the poor is really not right and is not made out by the figures."
Paul Johnson, head of the Institute for Fiscal Studies, described it as a "relatively modest tax increase on a group hitherto well sheltered from tax and benefit changes".
However he said Mr Osborne "should have avoided dressing up what is clearly a tax increase as merely a simplification".
Kayte Lawton, senior research fellow at the IPPR think-tank, said despite a "political own goal" in the way the chancellor announced the changes, "the policy change is the right thing to do".
"Older people have been relatively protected from welfare and spending cuts so far," she said.