Plaid Cymru aims to hold ground in council elections, says Helen Mary Jones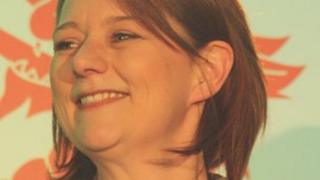 May's local elections cannot be seen as a referendum on new Plaid Cymru leader Leanne Wood, insists the party chair.
Helen Mary Jones said the election would be tough and that Plaid was "aiming to hold its ground".
She said the party was up against an effective Labour campaign in parts of Wales.
At the spring conference at Ffos Las racecourse in Carmarthenshire, members were told the party has proved its ability to run local councils.
Plaid has just over 200 councillors out of more than 1,200 across Wales, and leads two authorities - Caerphilly and Gwynedd.
Speaking to journalists, Ms Jones pointed out that the elections will come just six weeks into Ms Wood's leadership.
"Whatever the result is, I don't think we can take that as a referendum on how people are responding to our new leadership and our new direction."
She said: "I think that's really difficult to call.
"We are running really strong campaigns on the ground."
In places where Labour is the main opponent - for example Caerphilly, Rhondda Cynon Taf and parts of Carmarthenshire - "we know that there's a kind of national bounce for Labour".
"It's going to be tough. We are looking to hold our ground."
"We are very positive about holding and enhancing our numbers in Gwynedd. We need to hold the ground in Caerphilly.
"Local gains will be the key thing."
'Energising' candidates
She declined to make predictions about how Plaid would fare in Rhondda - Ms Wood's home patch - but that the new leader was "energising" candidates.
In her first conference speech as leader on Friday Ms Wood pointed out that she still lived near her parents in the village where she grew up.
The party's election campaign is being overseen by Plaid AM Alun Ffred Jones, a former leader of Gwynedd council.
Mr Jones, a former leader of Gwynedd council, told the conference: "Plaid Cymru has proven that we can govern effectively at a local level.
"Now is the time to spread the word of how Plaid will always go the extra mile for our communities.
"Now is the time to hit the streets and win for Wales."
Plaid went backwards at last year's assembly election, losing seats in the Senedd and slipping to third place behind Labour and the Conservatives.