Vote 2012: Cardiff's housing election battleground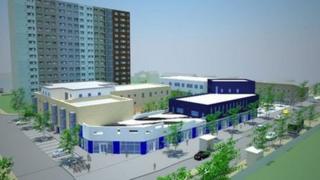 BBC Wales is looking at local issues in some of the key council battlegrounds ahead of the council elections on 3 May.
As Wales' largest local authority, it is no wonder the demand for housing is very strong in the Welsh capital.
There are 10,200 people on the city's waiting list for housing, and 500 homeless households in temporary accommodation.
But even making full use of Cardiff's empty houses is a challenge.
According to the council's figures, there are approximately 4,000 empty properties at any one time in Cardiff, of which 1,500 have been empty for more than 6 months.
JJ Costello, the head of strategy for the housing charity Shelter Cymru, said it showed that a range of measures was needed to tackle the issue.
"In common with most other local authority areas, the way forward realistically has to be taking full advantage of a range of opportunities rather than there being a single solution," he said.
"There is clearly a need for low-cost or social housing and Welsh government subsidy continues to decrease... homelessness prevention is key to mitigating the increasing levels of housing demand."
Shelter also believes the expansion of mortgage rescue schemes in Cardiff are vital, to minimise home loss through mortgage arrears is important, as well as bringing empty homes back into use.
Paper mill plans
Cardiff council views brown field sites as the preferred option for building new houses, plans to build on undeveloped land near residential areas invariably meets resistance by local residents.
This week the city announced plans to build 700 new homes on a former Paper Mill site at Ely Bridge.
It will be built by a not-for-profit company, set up in a deal by the Welsh government and Principality Building Society, which wants to spend £100 million developing the site.
The 53-acre development will include affordable homes, offered at rents at or below local housing allowance rates.
Principality Group chief executive Peter Griffiths said: "We firmly believe that the successful delivery of this type of institutional rental model could be replicated on sites elsewhere in Wales to help address some of the dysfunctional aspects of the current housing market."
Every local authority in Wales has been urged by the Welsh government to release a local development plan to address housing needs over the next few years.
Cardiff is yet to release its plan, saying it will be considered by the council in October 2012 - after the local elections.
Party policies
All the major parties have their own strategies on how best to tackle housing issues.
The Welsh Liberal Democrats place emphasis on bringing empty homes back into use, bringing more private money into housing and protecting any new social rented housing from being sold under the Right-to-Buy scheme for a minimum of 25 years, in areas where this is needed.
The Conservatives pledge to tackle the problem of 'garden grabbing' and halting inappropriate development on flood plains in the countryside.
Plaid Cymru wants to devolve primary legislation to housing, and pledge more affordable housing over the next four years.
They also place emphasis on investing in making houses more energy efficient.
While Welsh Labour say it remains committed to a strong mix of social and private housing, and promises a further £1.2bn to deliver the Welsh Housing Quality Standard for all council and housing association tenants across Wales.