Vote 2012: Rural schools still hot topic in Gwynedd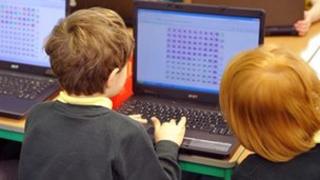 The future of small rural schools was a key factor in one of the most unexpected results in the 2008 Welsh council elections.
In Gwynedd, the newly-formed Llais Gwynedd - set up mainly to oppose school closures - took 13 seats and claimed some notable scalps from Plaid Cymru in its traditional stronghold.
Plaid lost its majority, despite still having the largest number of seats by some distance.
The result followed large-scale protests by parents and governors against proposals to close up to 29 schools across the county.
In the face of such widespread opposition, the authority reconsidered, and decided to proceed on an area-by-area basis.
As a result, the protests have been on a smaller scale, despite fierce opposition in both the Tywyn and Bala areas during the last few years.
Those campaigns both appear to have failed, with the authority voting to close several schools. Similar plans in the Dolgellau area have also recently been passed.
Plaid Cymru - which recently regained its majority on the council - argues that difficult decisions have to be taken in the face of a substantial reduction in the number of children in many schools, and the need to make the best possible use of money and resources.
The party says that the reorganisation has also led to substantial extra investment, more than £23m, from the Welsh government to build new area schools.
The decisions to close schools have generally been supported by both Labour and Liberal Democrat councillors, as well as some independents.
Parents and governors in parts of Llyn, Eifionydd, and Arfon fear that the authority will make similar proposals to close schools in their areas after the election.
The council has said it is under pressure from the Welsh government to ensure there are fewer empty places in the county's schools.
The authority was recently praised by the Welsh Audit Office for having made "difficult decisions" in an attempt to improve education for the young people of Gwynedd.
But Llais Gwynedd remains opposed to the majority of school closures.
It says that in many cases the school is the heart of community, particularly in rural areas, and is against closures if educational standards are upheld and if local people oppose it.
The future of small schools may not dominate the Gwynedd campaign to the same extent as it did in 2008.
But in several areas of the county - as in other parts of Wales - it will again be a hotly-debated topic.