Keith Davies: Welsh assembly standards watchdog referral 'over hotel behaviour'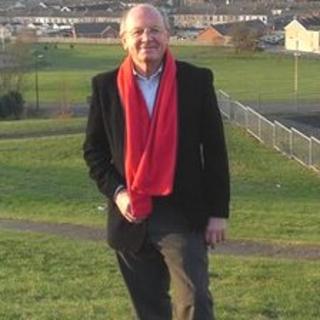 An Assembly Member has been referred to the Welsh assembly's standards watchdog after claims about his behaviour in a hotel after a night out.
Llanelli AM Keith Davies's stay at the five-star St David's Hotel in Cardiff Bay was paid for by the assembly's authorities.
They confirmed they were informed about an alleged incident.
It is believed Labour's chief whip advised Mr Davies to leave the Senedd before Tuesday's plenary session.
He was not present for questions to First Minister Carwyn Jones or other votes on government policy and legislation.
He returned to the assembly on Wednesday for a private meeting of the Children and Young People's Committee.
The incident is alleged to have happened early on Tuesday.
Mr Davies, 71, was staying at the hotel where some AMs who live outside Cardiff stay when the assembly is sitting.
After a night out - which eyewitnesses said ended at the Live Lounge bar in the centre of Cardiff - he returned to the hotel ahead of the first plenary session after the Easter recess.
He had earlier joined other AMs and political figures for dinner and drinks to celebrate the birthday of a political lobbyist.
The hotel said it did not disclose any information about its guests.
But it is believed an altercation took place which resulted in the hotel contacting the Assembly Commission, which is responsible for the running of the institution, to express concerns about his behaviour.
A commission spokesman said: "Assembly Commission staff support Assembly Members on a daily basis in relation to their accommodation needs whilst in Cardiff on assembly business.
"The clerk of the assembly has been made aware of an alleged incident involving an Assembly Member relating to accommodation provided at public expense.
School governor
"Although no formal complaint has been received by the clerk of the assembly in relation to the alleged incident, she is required, by section 9 of the National Assembly for Wales Commissioner for Standards Measure 2009, to refer the matter to the assembly's independent commissioner for standards for investigation.
"It would not be appropriate for the commission to make any further comment on the matter until that investigation has been completed."
There is no suggestion that the police were involved at any point. South Wales Police said they had no record of being called to any incidents at the hotel on Monday night or Tuesday morning.
Mr Davies was first elected to the assembly last May at the age of 70, taking back Llanelli from Plaid Cymru by 80 votes.
He qualified as a teacher before becoming a school inspector and subsequently became director of education for Mid Glamorgan and Carmarthenshire. He is a governor of two schools and has two teenage sons.
Mr Davies' office has been asked to comment.
A Welsh Labour spokesman said: "We take any issue relating to the conduct of Labour assembly members seriously, and the chief whip will investigate fully."