Vote 2012: Preparing for local election night after a busy month in politics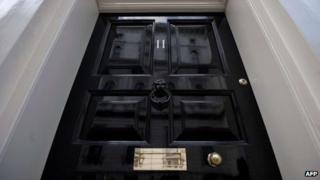 After a torrid month for the UK government and a poll bounce for Labour, BBC Wales political reporter Daniel Davies asks what will constitute a good set of results for the political parties at the local elections.
The local election campaign got under way with rows about VAT on hot pies and an income tax cut for the rich.
But the Budget was just the start of a torrid month for the Westminster coalition.
Since then we've seen panic buying at petrol stations, the stalled deportation of Abu Qatada, uncomfortable questions about contact between ministers and the Murdoch dynasty and - perhaps worst of all - confirmation that the UK economy is back in recession.
So quickly have things unravelled that the pasty tax is just one aspect of what Ed Miliband has labelled "the omnishambles". As things continue to slide for the Westminster coalition, should his party revise upwards its expectations for the local elections?
Lost ground
A bad month for the UK government doesn't necessarily mean voters are back in love with Labour.
Labour has a lot of ground to regain from the last time Wales' 1,200 council seats were contested four years ago.
Voters clobbered Gordon Brown over the 10p tax row in May 2008, depriving Labour of 124 seats. The Conservatives were the big beneficiaries, gaining a 5% share of the vote.
By coincidence, pollsters ICM gave the Tories a 5% lead over Labour in the run up to that election.
How things have changed. The same series of polls for the Guardian newspaper put Labour eight points ahead last week - and that was before the double-dip recession was announced.
It is difficult to project UK-wide polls onto the Welsh political scene, particularly during local elections with their long tradition of independent candidates.
But it's clear the tide is running in Labour's favour.
They are defending around 340 seats in Wales and fielding more than 880 candidates. Winning anything less than 450 would be disappointing, says the political analyst Prof Richard Wyn Jones of Cardiff University's Welsh Governance Centre.
"The big question: how far up the beach can they push the boat?" he said in a briefing for journalists.
Standing in their way are Plaid Cymru, the Tories, the Liberal Democrats and a phalanx of independents.
Plaid have a new leader in Leanne Wood. You might expect the party to attract attention by electing its first Welsh-learner and female leader.
But Plaid insists the local elections come too soon into Ms Wood's tenure for them to be seen as a verdict on her.
Plaid enjoyed pretty good results in May 2008, despite local difficulties depriving it of outright control of Gwynedd. Losses to a Labour resurgence this time around might be offset by gains elsewhere.
These elections will be an interesting test for the Welsh Conservatives, who have been steadily amassing votes in recent years, culminating in the 2011 assembly elections when they pushed Plaid into second place.
The UK political and economic backdrop does the Welsh Tories no favours. At the very least, they will expect to hold onto the Vale of Glamorgan - the back yard of their assembly leader Andrew RT Davies - which they gained in 2008.
Beyond that, keeping their current tally of nearly 170 seats would be a good result, says Prof Jones.
But if trouble for David Cameron and Nick Clegg's coalition is inconvenient for the Welsh Conservatives, what does it mean for the Welsh Liberal Democrats?
Holding back stiff challenges from Labour in Wrexham, Cardiff and Swansea will be a big ask. Labour would dearly love to dislodge the Lib Dem leadership of those three councils. Winning Cardiff is "within our grasp", Welsh Labour leader Carwyn Jones said recently.
The Lib Dems are the only one of the four main parties fielding fewer candidates than they did in 2008, saying they are concentrating resources in places where they have a chance of doing well.
How is this for expectation management from Lib Dem local government spokesman Peter Black: "We are competitive in the seats that we hold."
It's rare for such a dose of realism to cut through the flak at election time. While they trash their opponents in public, political parties will be carefully assessing their chances in public. They only have a few days to wait to find out what voters make of it all.