Carwyn Jones: Chongqing links 'strong' despite scandal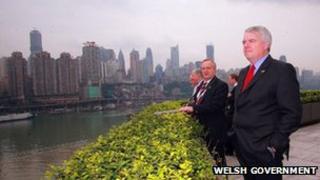 The Welsh government's relationship with a major industrial city in China will not be affected by political upheaval there, First Minister Carwyn Jones has said.
Mr Jones met Bo Xilai, the former Communist Party boss in Chongqing, when he visited last year.
Mr Bo has since been removed from his post and his wife is being investigated over the death of a British national.
Mr Jones said links with Chongqing did not depend on one individual.
The first minister followed in the footsteps of his predecessor Rhodri Morgan when he went to Chongqing last October.
On his return, the Welsh government said he held "constructive and positive" meetings with Mr Bo and other senior officials.
Co-operation
They signed a co-operation agreement, superseding and earlier agreement in 2008.
At his monthly press conference in Cardiff on Thursday, Mr Jones said: "The relationship is still strong.
"The relationship doesn't depend on a relationship between us as a government and one individual.
"These things happen. You never know what's going to happen in politics."
He added: "It's inevitable during the course of that relationship that individual personalities will change."
Asked if Wales was seeing tangible economic benefits from its links with Chongqing, Mr Jones said it "takes a long time to build a relationship in China that yields a result in terms of business".
India, which he visited this month, was different, he said. Mr Jones hailed plans by steel giant Tata to invest £800 million in Wales over five years, announced after he held talks with the company's bosses in Mumbai.
Mr Bo was one of China's most high profile politicians until his fall from grace.
His wife, Gu Kailai, has been detained as a suspect in the death of Neil Heywood, the British businessman found dead in Chongqing last November.