Vote 2012: A fifth choice with a real chance of winning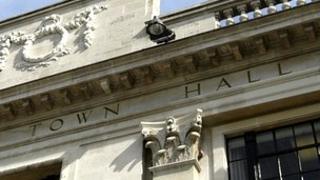 Westminster and Assembly elections are dominated by tradition. Mainstream parties win nearly every seat and usually govern alone. The phenomena of the independent councillor makes local elections very different.
But who are they? What do they represent? And are they members of political parties masquerading as independents?
Pembrokeshire council is the only wholly-run independent council in Wales. It's been that way since its creation in 1995.
One of the group says independents have reconnected people with politics.
"All politics is local," he said. "You are dealing with people's challenges that reside within communities that often you live in. It is not about party discipline. It's not about winning, it's about serving people."
Across Wales, 279 independent councillors were returned in 2008 and independents lead nine of Wales 22 local authorities.
Voting for an independent has been in vogue according to a leading political academic, Professor Roger Scully from Cardiff University.
"There has been a general long term trend in Britain and across the democratic world of declining senses of support and loyalty towards major political parties.
"That does create some opportunity for people not attached to political parties just as particular scandals damaging the parties can create opportunities for them."
In 2003, Dr John Marek won a famous victory for independent candidates when he became an assembly member. It followed his falling out with the Labour party who he had previously represented in Cardiff Bay.
But there are some who think that members of the four main parties in Wales are masquerading as independents.
Party machine
In Pembrokeshire, the register of members interests shows that some independents are paid up members of the Conservatives, Labour and Plaid Cymru.
It makes for better debate according to one of the independents.
"That proves to you what a broad church the independent gathering of individuals are.
"We tend to vote in west Wales for the individual who we thinks will serve our communities and our interests best, rather than the brand and flag that flies above candidates."
For some, the lure of the party machine is still difficult to turn down. For others, local elections have been a forum to cast a protest vote.
In 2008 many voters elected independent councillors as a way of giving Labour a bloody nose.
Their hopes of being re elected on Thursday will depend on how closely they have kept to many an Independent's mantra: putting people before politics.