Public Accounts Committee urges public sector in Wales to share cuts ideas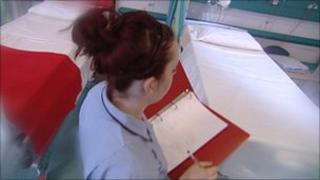 Public sector organisations in Wales are being urged by Assembly Members to work more closely to cut their budgets.
The Public Accounts Committee called for "rapid collaboration" to build on the savings being achieved.
A report also calls on the Welsh government to hold senior health chiefs to account over financial performance.
Committee chair Darren Millar said: "We believe that the task set for the public sector is considerable but not insurmountable."
The report was the response of AMs to warnings by the Wales Audit Office in October that up to 21,000 public sector jobs could be lost in Wales over four years.
The committee found that local councils had not suffered as big a fall in budgets as they feared, and they are expecting a 0.24% cash increase for 2012/13.
Quick decisions
Evidence from the Welsh Local Government Association (WLGA) said that savings were initially being made in culture, leisure and the arts, in order to protect statutory services.
"There are particularly acute service pressures in social services, in adult and children's services... we have seen demand for services to vulnerable groups increasing," said the WLGA in its submission.
The report also called on councils to share and implement the best ideas on efficient use of resources, adding that they could learn from the achievements of police forces and fire services in Wales.
Mr Millar said: "The tough economic climate has, in some parts, encouraged collaboration and innovation in delivering services to the people of Wales and we urge the Welsh government to assist in sharing this good practice.
"But there is no escaping the fact that currently it isn't enough, that more difficult decisions lie ahead for all public sector bodies and that those decisions must be taken quickly to mitigate the impact of the cuts."
AMs also highlighted the risk to the Welsh government's budget of overspending on health services.
The report noted the extra £93m given to the NHS in Wales in 2011/12 - £63m to place the NHS on a "sustainable financial footing" and £30m to support the transformation of services in mid and west Wales provided by the Hywel Dda Local Health Board.
The AMs called on the Welsh government set up a framework to promote effective financial planning by local health boards and to call senior managers to account on their handling of budgets.