Vote 2012: Final full day of campaigning before Welsh council elections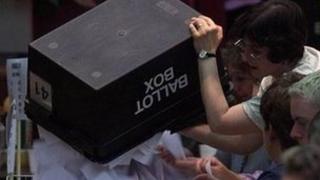 Candidates are embarking on their final full day of campaigning for the local elections in Wales.
Almost 1,200 seats are being contested in 21 councils.
Elections are taking place in all authorities except Anglesey where ministers have put a team of commissioners in charge after years of political infighting.
The political parties say they have been focusing on local issues on the campaign trail.
But the backdrop has been provided by a difficult month for the UK government, with Labour hoping to bounce back from poor results at the last elections in 2008.
Labour's campaign appeared to have been bolstered by an opinion poll of Welsh voters on Tuesday that put it well ahead of its rivals, suggesting it could make gains on Thursday.
Despite what the party calls a "community-based campaign", Labour has urged voters to send the Westminster coalition a message through the ballot box.
Labour Assembly Member Vaughan Gething said: "I don't shy away from or apologise for the fact we've also talked about the national picture. It's certainly been an issue that voters have raised with us on the doorsteps."
'Difficult times'
The Conservatives have called for lower council taxes during the campaign, but the tax freeze they want would require them to win power in the Welsh assembly.
Wales Office minister David Jones said he expected people to vote on local issues during "difficult times".
"Those are the things that will decide this election - local things, I'm sure," he said.
Liberal Democrat AM Aled Roberts had a similar message, saying: "We've tried to keep the campaign local. We've talked about improvements in services in those councils where we've been either in control or led a coalition."
His party will particularly want to hold back Labour in Cardiff, Swansea and Wrexham, all of which have been under Lib Dem leadership.
But with fewer candidates than four years ago, Lib Dem leader Nick Clegg has said these elections will be "tough".
Plaid Cymru has tried to play down expectations that its new leader Leanne Wood will transform the party's fortunes, saying the election comes too early in her leadership.
It is fighting tough battles with Labour in places like Caerphilly, which it has led, and Carmarthenshire, where it is trying to dislodge an independent-Labour coalition.
Plaid AM Rhodri Glyn Thomas said his party had instead been delivering "positive messages" about its record in the councils it runs.