Business rates: Let councils keep the proceeds, says report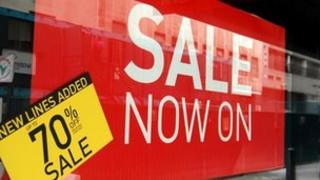 Councils should be allowed to keep some of the near £1bn they collect in business rates, a report says.
Allowing local authorities to retain some of the money would give them an incentive to help the economy, added the independent review commissioned by the Welsh government.
At present, councils collect rates and the money is then redistributed among them by the Welsh government.
The review says control of the rate system should be devolved for reform.
Led by Cardiff Metropolitan University economist Professor Brian Morgan, the review says changes to business rates should not be seen as a "cure-all" for the economy.
It says there are strong arguments for greater retention of rates by local authorities, but acknowledges this could not happen unless the system was devolved.
Councils should be allowed to keep half of future increases in business rates revenue after 2015, the review says.
The rest could be pooled and shared among councils that are less successful in generating economic growth.
The review says its recommendations would make a "needlessly opaque" system "more transparent".
Business rates are a tax on non-domestic properties. The money is collected by local authorities and then redistributed by the Welsh government according to a formula based on population and needs.
Councils collected more than £900m in business rates last year. It ranged from £12m in Blaenau Gwent to more than £179m in Cardiff.
Prof Morgan said: "At the outset the report emphasises that the primary role of business rates is to raise funds to support the delivery of local services.
"In this context we have recommended localising the income from business rates to incentives local authorities to increase their tax base."
Value
The amount businesses pay is decided by their rateable value, although some pay less under the small business rate relief scheme.
At present, businesses with a rateable value of less than £6,000 pay nothing, with further reductions available up to £12,000.
The review was "very much in favour" of extending the relief scheme beyond its scheduled withdrawal in March next year until at least 2015.
Although research shows varying rates has a "negligible impact on the wider economy", rates remain a big concern for small and medium-sized businesses, the review adds.
The Welsh Conservatives want businesses of up to £12,000 to be exempt from rates, with relief tapered up to £15,000.
Tory business spokesman Nick Ramsay said: "Private sector growth is the key to creating Welsh jobs and small businesses in particular deserve far more support from the government."
Plaid Cymru economy spokesman Alun Ffred Jones said his party would graduate rate relief up to £18,000, helping more than 8,000 companies.
Business Minister Edwina Hart said she had written to the rest of the cabinet to formulate the Welsh government's response to the report.
She said: "I am confident it provides us with much to consider in addressing the challenges to create a better, more accountable and competitive business rates system in Wales."