Top Welsh government official Gillian Morgan to retire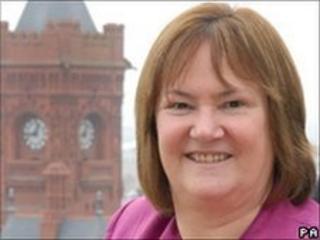 The most senior civil servant in Wales has announced her retirement.
Dame Gillian Morgan says she will stand down from her position as permanent secretary to the Welsh government.
Originally from Llwynypia, in the Rhondda, she was appointed to the job in 2008 following a career as a doctor and health service manager.
First Minister Carwyn Jones paid tribute to her work and commitment during a period of downsizing for the Welsh government.
She said she was immensely proud of what the Welsh government had achieved during an economic downturn and cuts in public spending.
'Honour'
"Taking the decision to retire from the role of permanent secretary has not been easy," she said.
"There is nothing more important to me than the long-term future of Wales and the people who live here.
"It has been a great honour for me to lead an organisation that is committed to supporting ministers to improve the lives of the people of Wales."
She was previously head of the NHS Confederation, which represents health trusts and boards.
She was part of the team led by Sir Jeremy Beecham in 2006 to advise the Welsh government on public services reforms.
When she was appointed to the Welsh government at the age of 54, then first minister Rhodri Morgan hailed it as a "major coup for Wales".
Current First Minister Mr Jones thanked her for her commitment and said her successor would be taking one of the biggest jobs in Wales.
Mr Jones said: "Dealing with the financial challenges of the past few years hasn't been easy, either for ministers or the civil service, and Gill has led the organisation through a period of significant downsizing while remaining focused on what we're trying to achieve through the Programme for Government.
"I know my cabinet colleagues and everyone who works here will join me in thanking her for everything she's done."
"Good and effective leadership of the civil service is absolutely critical in supporting ministers to do what they were elected to do and it's essential that whoever takes over from Gill has the right skills and experience to take on one of the biggest jobs in Wales."