Labour row stops assembly reform debate, says Welsh Secretary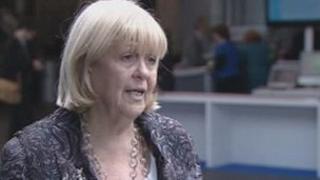 The Welsh Secretary has cancelled a Westminster debate on changes to assembly electoral arrangements.
It comes after Labour MPs accused Cheryl Gillan of trying to avoid scrutiny over UK government proposals to redraw assembly constituencies.
Shadow Welsh secretary Owen Smith said Monday's meeting would be before many Welsh MPs returned from constituencies.
Ms Gillan said she was "deeply disappointed" the issue was being used to "play party politics" by Labour.
Pontypridd MP Mr Smith said he was also angry that the proposals would not be discussed on the floor of the House of Commons, but instead debated in a special session of the Welsh Grand Committee in London.
The committee was due to meet to debate the Wales Office consultation on the future electoral arrangements for the National Assembly of Wales which is open for consultation until August.
Ms Gillan said as the debate is important she is "deeply disappointed" that it has been used to "play party politics".
"I do not think most people would have difficulty in turning up to work at 11.30am on a Monday morning," she said.
"So in view of the extraordinary position taken by the Shadow Welsh Secretary, I feel there is no other choice than to cancel this debate."
Mr Smith said a lack of proper consultation on the issue was a "discourtesy" to the assembly.
Speaking at Welsh questions in the Commons, Plaid Cymru's Westminster leader Elfyn Llwyd MP said: "I'm rather disappointed there will be no Welsh Grand Committee on Monday.
"I don't know if it's to do with alarm clocks or whatever else it may be."