Longer surgery hours will deter new GPs, says BMA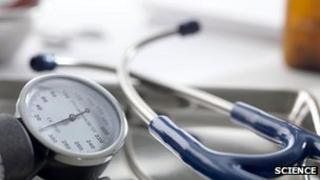 Doctors have warned that GPs in Wales do not want to work for longer for free after a Liberal Democrat survey raised concerns about extending opening hours.
The British Medical Association (BMA) said forcing GPs to work Saturday mornings could affect recruitment.
The Labour Welsh government has pledged to make it easier to see a doctor, a policy it says will be at no extra cost and GPs will not need to work longer.
But the Welsh government dismissed the Lib Dem findings as "trumped-up".
The Lib Dems sent questionnaires to about 680 GP practices and said all but three of the 130 practices which responded did not think the policy could work without more money.
A total of 113 disagreed with the policy and 127 said they did not think it could be implemented without additional funding.
Some GPs said they had already surveyed their patients and found there was little call for evening and weekend appointments.
One said: "We have opened on Saturdays and were lucky to see two patients."
Three stages
In comments attached to their responses, one GP said ministers would meet "fierce resistance" and another described the policy as "an outrage".
At last year's assembly election Labour's manifesto promised to make it easier for people to see a doctor in the evening and on Saturday mornings.
First Minister Carwyn Jones has said GPs could provide more convenient appointments for working people if they "re-jig" their hours, without the need to work longer. The policy is being introduced in three stages.
Over the past six months health boards have been working on reducing the number of practices which close for lunch or for half days.
The next step will be to concentrate on extending the number of planned appointments outside contracted hours in the early morning or in the evening. Attention will shift to opening at weekends in 2014/15.
Better patient experience
Welsh Lib Dem leader Kirsty Williams said: "This was their key health pledge and now GPs, the professionals who are expected to deliver it, have questioned whether it is needed or whether it is affordable in the current financial climate."
The BMA said it had repeatedly warned the Welsh government that there was little appetite among its members to work longer hours for free and that forcing GPs to work Saturday mornings could affect recruitment.
Dr David Bailey, chair of the Welsh GP committee, said: "We are supportive of there being late, bookable appointments up to 18:20 - beyond people's nine-to-five working hours to ensure that patients receive the optimum quality care, with the ultimate aim of producing a better patient experience for everyone.
"But longer access must be negotiated and funded via a direct enhanced service - something which every health board in Wales is able to offer now, or contracting with out-of-hours organisations."
A spokesman for Health Minister Lesley Griffiths said: "It's commonly accepted that Lib Dem 'surveys' aren't worth the paper they're written on.
"The very fact they won't make their 'findings' public, tells us all we need to know about their trumped-up claims.
"Just 12 months ago, the people of Wales voted in overwhelming numbers for this popular Welsh Labour election pledge and comprehensively rejected Lib Dem health policies out of hand."