Welsh government borrowing call backed, with controls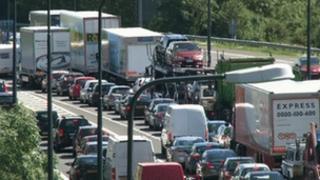 Borrowing powers should be available to the Welsh government to spend on major projects such as roads, says a cross-party group of Assembly Members.
But controls on borrowing should be agreed with Whitehall, according to the assembly finance committee.
The Welsh government's budget relies on a Treasury grant, currently at £15bn, and the committee says borrowing should not have a negative impact on this.
The decision on whether to grant borrowing powers lies with Westminster.
The Welsh government is calling for powers similar to those already enjoyed by the Northern Ireland executive and which are being extended to the Scottish government.
'Maximum flexibility'
Talks between governments in Cardiff and Westminster have been going on for months.
First Minister Carwyn Jones says the negotiations are "coming to a head".
In a report published on Tuesday, the assembly's finance committee backs ministers' calls.
It says that if borrowing powers are granted, a control framework should be negotiated between the Treasury that gives the Welsh government "maximum flexibility to use borrowing effectively to respond to investment needs."
It points to the example of Spain, where borrowing by regional governments has contributed to the country's economic and financial problems.
Committee chairwoman Jocelyn Davies said: "In the current economic climate and against a backdrop of decreasing capital budgets, it is vital that governments are able to use limited resources effectively to undertake capital investment which can act as an important lever to support economic growth."
She said she hoped the recommendations would be examined by the Silk Commission which is looking into the future of devolution.
"We've come out in favour of borrowing powers because of all the evidence that we've received on that, and obviously as something that would be very beneficial for the Welsh government and Wales as a whole," Ms Davies told BBC Radio Wales.
'Agreed framework'
"But what we wanted to make sure was, as our report pointed out, that shouldn't then have a negative impact on the block grant as it currently does.
"So we want to see that put on a firm legislative footing, within an agreed framework.
"Obviously there would need to be limits negotiated with the Treasury and our borrowing would have to be approved by the national assembly as part of the budget process."
The Silk Commission is also looking at the whether the Welsh government should be granted powers to vary taxes.
The committee says the commission should consider whether devolving tax-varying powers is a pre-requisite of borrowing powers.