Wales Office denies David Cameron assurance over elections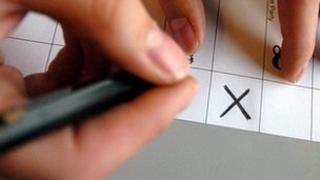 The UK government has denied that David Cameron gave assurances to the first minister about changing the Welsh assembly's electoral arrangements.
Carwyn Jones says the prime minister told him there would be no changes without the assembly's agreement.
But MPs were told during a debate in Westminster that no such assurance was given.
The UK government is consulting on changing the assembly's constituency boundaries.
Although responsibility for the matter lies at Westminster, First Minister Mr Jones has said Mr Cameron twice told him the changes would not go ahead without the agreement of the assembly itself.
But during a bad-tempered Westminster Hall debate on Tuesday, Wales Office minister David Jones said that was not Mr Cameron's recollection.
He said: "The position is clear so far as the PM is concerned - he agrees that the electoral arrangements of the assembly are not within the assembly's devolved competence and that is a matter that the first minister appears to agree on.
"But when they had their discussion he said that the assembly itself - this is the prime minister - should be fully engaged in the process.
"He does not recall, as the FM seems to recall, saying that the matter should be decided by the assembly itself and indeed the notes of the discussion do not reflect the first minister's recollection of the conversation."
'Trust'
Labour MP Paul Murphy added that "the whole business undermines the trust between the two governments".
Proposals from the Wales Office could see the next assembly elections in 2016 fought under different boundaries.
It has published a green paper intended to ensure "fairer votes" and bring the assembly into line with a smaller House of Commons.
The number of Welsh MPs is being cut from 40 to 30.
At present 40 of the assembly's 60 members represent first-past-the-post seats that share the same boundaries as Wales' 40 parliamentary constituencies. A further 20 AMs are elected from regional lists.
The green paper proposes either having 30 AMs occupying the same constituencies as Wales' new parliamentary seats, or redrawing the boundaries of the 40 existing constituencies so they are of equal size.
In either system the rest of the 60 seats would be filled by regional AMs, maintaining the assembly's partly-proportional elections.