Carwyn Jones opens London office for Welsh government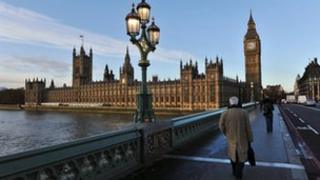 First Minister Carwyn Jones will hail Wales as a place to invest when he opens his government's new office in London.
The Welsh government is renting premises on Victoria Street, London.
It says a permanent base in London will allow ministers to build relationships with foreign embassies, businesses and UK government departments.
About seven full-time staff will work at the office which is being rented at a cost of £270,000 a year.
The office is in the building of the former headquarters of the Conservative Party.
Mr Jones, who will open the office on Thursday, said the eyes of the world will be on London in a few weeks during the Olympics.
"The office will create an important base for the Welsh government, and businesses from Wales, to influence decision-makers in the foremost financial and commercial centre in the world," he said.
"We are facing a tough and competitive market but we're determined to do everything we can to get the message out there that Wales is the place to invest.
"This is vital given the turmoil of the global economy.
"There are more than 1,000 overseas owned companies based in Wales, employing around 140,000 people. We want to build on this and continue to attract overseas companies to Wales."
Constitution
While in London he will repeat a call for a constitutional convention on the future of the UK.
In a speech in an event at the House of Commons, Mr Jones will reject independence for Wales and say Wales would "enormously regret any decision by the Scots to opt for independence".
The rest of the UK needs to think about "what kind of UK we want to see", he will say, claiming a convention would allow England to contribute to the debate on the future of devolution.
"I certainly regret the lack of an English contribution so far, and urge that we find a way to rectify that," the first minister will say.