UK officials warned Welsh government over organ donation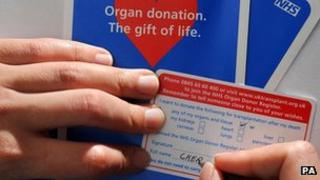 UK officials told the Welsh government that plans to introduce a new presumed consent law for organ donation was a legal 'minefield'.
The views came during discussions when the Welsh government was asking for devolved powers on the issue.
The comments were uncovered in a Freedom of Information request by BBC Wales' Dragon's Eye programme.
Welsh ministers published legislation in June to introduce the new system by 2015.
But discussions had been ongoing with the UK government prior to the introduction of new law-making powers for the National Assembly, following the 2011 referendum in Wales.
Before that, any plans to devolve extra powers to Wales had to be agreed with parliament, under the process known as a legislative competence order.
It was during those negotiations that officials raised their concerns.
The UK government questioned whether an opt-out organ scheme was desirable, "feasible", or whether it was necessary to run two different systems, arguing it would lead to confusion.
Papers released under the Freedom of Information request also revealed that the Welsh government would fund the extra cost of introducing the new organ scheme from its own budgets, while continuing to fund the UK scheme in the meantime.
Experts believe the cost of implementing the system in Wales could be over £2m, based on research done by the UK Organ Donation Task Force in 2008.
Information complaint
It took 14 months for the information to be released to BBC Wales, and the details were only handed over after Dragon's Eye successfully complained to the Information Commissioner's Office.
Commenting on the Dragon's Eye papers, a Welsh government spokesperson said: "The proposed soft opt-out system of organ and tissue donation in Wales is designed to save lives.
"International evidence suggests in countries with opt-out systems, families are more likely to feel able to take part in the organ donation process because they are assured that, had their loved one objected to organ donation, they would have opted out.
"The FoI request related to work on the Legislative Competence Order, and things have moved on since then.
"We are continuing to maintain dialogue with the UK government to deal with any concerns they may have."
The Welsh government also addressed the issue of funding the new scheme, adding: "It is incorrect to say we will be funding two systems of organ donation.
"We will fund set-up costs arising from the new legislation. Once set up, we will fund a single system meeting the needs of Wales, allowing people to register either an opt-in or opt-out."