School standards: Councils warned of 'further action'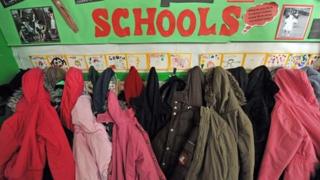 There have been some damning verdicts on the standard of education offered by Wales' schools in recent years, not least the unfavourable Pisa comparison with other countries.
In 2010, Wales was the lowest ranked UK nation for reading at joint 38th of 67 nations, also lagging behind former Communist states such as Latvia and the Czech Republic.
And Welsh ministers have said they are determined to improve things. But what about the organisations that run schools - local education authorities?
The establishment of a recovery board on Anglesey is the fourth time since September 2010 that a council has required follow-up action because of a poor report by schools inspectors Estyn.
The man at the top is clear where he thinks the problem lies.
Education Minister Leighton Andrews says the creation of Wales' 22 councils during a local government shake-up in the mid-1990s was a mistake that contributed to unsatisfactory standards in schools 10 years later.
'Fragmentation'
"I think it's evident that the fragmentation of local government in the 1990s into 22 local education authorities was destructive and has not helped build a strong education in Wales," said Mr Andrews.
As a response, councils have been grouped together into four partnerships so they can plan and deliver improvements on a regional basis.
A report into the structure of education services last year said the idea of regional consortia was a more sensible way to organise resources than allowing 22 authorities to go their own way.
With fewer councils there should be fewer back-office functions and therefore more money for the frontline, so the argument goes.
Mr Andrews is going to take a look at the way they are working later this year with a warning that there "could be further action down the line".
Although he isn't specific about what form that "further action" will take, it ought to be pretty clear to local councils that the man at the top is not going to leave them alone if he doesn't like what he sees.
This should come as no surprise to education authorities. Mr Andrews has previously said there will be financial penalties for authorities that do not participate in consortia.
In a speech in June 2011, he set a series of challenges for local government to meet by this September, including targeting resources to schools that need them most.
The latest intervention in Anglesey gives the minister an opportunity to remind local education authorities that he still has his eye on them.
As he told BBC Wales: "We will be reviewing the work of the consortia from this autumn onwards and part of that review we will look also at the role of local authorities in running education."