Awema chair says finance director 'was not a scapegoat'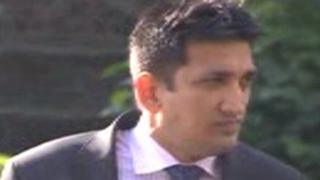 The chairwoman of a defunct charity for ethnic minority people has denied its finance director was made a "scapegoat" for the organisation's failures.
Dr Rita Austin, former chair of the All Wales Ethnic Minority Association (Awema), told an employment tribunal she acted responsibly as an employer.
Awema finance director Saquib Zia is claiming unfair dismissal.
He was accused of gross misconduct and sacked in February after a Welsh government audit report.
The report, launched after allegations of financial mismanagement at Awema, warned of "significant and fundamental failures".
Dr Austin told the tribunal in Cardiff that Mr Zia, who earned more than £50,000 a year, could not be offered an opportunity to appeal the decision because Awema "ran out of road" when its Welsh government funding was terminated.
'Tarnished'
With the Charity Commission launching its own inquiry, she said Awema needed to act "decisively" in the wake of the report.
Dr Austin said the charity's reputation had been "trashed" and she was worried other black and ethnic minority charities were in danger of being "tarnished".
Christopher Howells, counsel for Mr Zia, asked if his client had been made a "scapegoat... removing the spotlight from others in the organisation".
Dr Austin said: "There was no feature that we were scapegoating anybody.
"They were held responsible for those decisions for which they were responsible."
The decision to summarily dismiss Mr Zia was taken on the basis of the Welsh government's audit findings, Dr Austin said.
The charity's chief executive Naz Malik was also sacked.
Dr Austin said she did not contact Mr Zia between the time he was suspended in December and his dismissal because he was suffering from work-related stress.
The charity had been advised to engage a medical practitioner to see Mr Zia before speaking to him, the court heard.
The Welsh government's report said investigations into the charity were hampered by the absence of audited accounts for 2010/11.
Giving evidence, Mr Zia denied the charity was insolvent when he left. No-one asked him to produce the accounts, he said.
The public spending watchdog, the Wales Audit Office, is carrying out its own review of the charity which handled millions of pounds of public money from its offices in Swansea. It has since gone into liquidation.
The tribunal was adjourned until Monday.