Awema finance director wins case for unfair dismissal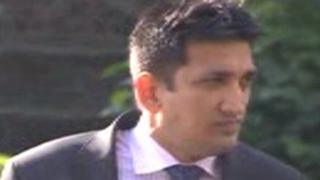 A director of the defunct All Wales Ethnic Minority Association (Awema) has won his unfair dismissal case.
Saquib Zia was accused of gross misconduct and sacked after a Welsh government audit report warned of "significant and fundamental failures".
Employment tribunal judge Roger Harper called it a "textbook example of how not to dismiss somebody".
He was "astonished" that the Swansea-based charity had "actively ignored their own dismissal procedures".
Giving his verdict, the judge said Mr Zia, who was finance director at the charity, was "substantively and procedurally unfairly dismissed".
He also criticised the former chief executive officer of Awema, Naz Malik, and the chair of trustees, Dr Rita Austin, saying he found that their testimony to the tribunal was "evasive"
Medical practitioner
In her evidence last Thursday, Dr Austin said she did not contact Mr Zia between the time he was suspended in December and his dismissal in February because he was suffering from work-related stress.
The charity, she said, had been advised to engage a medical practitioner to see Mr Zia before speaking to him, the court heard.
But the judge dismissed the claims, citing a letter sent to Mr Zia to inform him of his dismissal.
He said: "One can only imagine what adverse impact that would have on somebody who was away from work with stress."
He also criticised the charity's failure to consult a medical practitioner to see if it would be possible to speak with Mr Zia.
'Fundamental failures'
Both Mr Malik and Dr Austin refused to comment after the hearing.
After the case, Mr Zia who was awarded compensation of £4,010, issued a statement.
"I now feel vindicated by the decision of the employment tribunal that my dismissal was unfair. I am grateful to the judge for his careful and thorough consideration on my claim," he said.
"I now look forward to putting this episode behind me and I hope that the remaining members of Awema board can accept and learn the lessons of its own failings that have led to Awema's demise."
Mr Zia raised concerns about financial mismanagement and bullying at the Swansea-based charity last year.
In February, a Welsh government audit report concluded there was "significant and fundamental failures".
It said the charity's funds were used to pay for gym memberships for staff worth £2,120, £800 was spent on rugby and cricket tickets and a £110 parking fine for Mr Malik was paid.
The public spending watchdog, the Wales Audit Office, is carrying out its own review of the charity which handled millions of pounds of public money from its offices in Swansea. It has since gone into liquidation.