Gwynfor Evans' memorial bid as centenary marked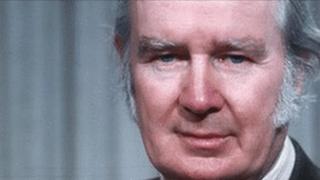 Friends and former colleagues of Plaid Cymru's first MP Gwynfor Evans are marking the centenary of his birth.
They will launch a fresh attempt to erect a memorial to him in Carmarthen, the town he represented in parliament.
Meanwhile, the story of how the former Plaid president threatened to starve himself to death in the campaign to establish S4C will be re-told on TV and on radio.
It comes in the 30th year since the channel started broadcasting.
Evans was born in Barry on 1 September 1912 but spent most of his life in Carmarthenshire.
He shook the political world when he won the Carmarthen by-election in 1966, becoming Plaid's first MP. He held the seat twice, eventually losing it in 1979.
In 1980 Evans threatened to go on hunger strike if Margaret Thatcher's Conservative government did not honour an election promise to create a Welsh-language channel.
Evans's stand against the Iron Lady will be told in the play Gwynfor v Margaret, due to air on Radio 4 in November.
Threat
Writer Rob Gittins said cabinet papers from the time show how Evans's threat rose up the agenda as pressure grew on the Tories to honour their commitment.
"The first time it was discussed it came just below a discussion on domestic jam-making and the last time it preceded every other item on the agenda," he said.
Home Secretary William Whitelaw announced in September 1980 that the government would set up a Welsh-language channel as originally pledged.
The following month, Mrs Thatcher delivered her famous speech when she insisted "the lady's not for turning".
During her premiership she faced formidable opponents in the IRA, Argentina's General Galtieri and miners' leader Arthur Scargill.
"It seems to me that she probably found it easier to demonise those characters," said Mr Gittins, who contrasted her more notorious foes with Evans: "A mild-mannered man from Carmarthen who kept saying 'but you promised'."
'Failed'
The story will also be told in an S4C docu-drama written by the poet and dramatist T James Jones to mark 30 years of the channel.
He said Evans must have been frustrated by the No vote in the 1979 referendum on devolution and the unsuccessful campaign in the 1950s and 60s to stop the flooding of the Tryweryn Valley.
"He had come to believe, I think, that he had failed and this was an opportunity to act unconstitutionally that would benefit Wales," he said.
He has no doubt Evans was genuine in his threat to hunger strike. The former Plaid president discussed his plans with his friend, the author Pennar Davies, who allayed his fears before telling his wife Rhiannon.
"That must have been a hell of a dilemma for him," Mr Jones said.
Carmarthenshire councillor Peter Hughes Griffiths, who worked for Evans, remembers first hearing of the threatened hunger strike.
"Deep down we knew he would fast to his death because he was such a dedicated man when he said something he would follow it up," he said.
Mr Hughes Griffiths will help launch an appeal on Saturday to raise funds for a memorial to Evans who died in 2005.
Campaigners have already raised £10,000 to pay for a memorial of some kind which they hope to unveil in the town by 2016 - the 50th anniversary of his by-election victory.
A memorial stone to Evans stands on Garn Goch near Llangadog and there is a bust of him in Barry library.
But Mr Hughes Griffiths said there should also be a permanent memorial in Carmarthen "because of the historical victory of 1966 and many people say if that hadn't happened we wouldn't have reached the situation we are in today with the Senedd in Cardiff".