North Wales, Cardiff, Swansea trials cancer exercise scheme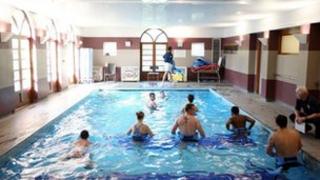 Cancer patients in parts of Wales are being encouraged to take more exercise in a pilot scheme aimed at boosting their quality of life and independence.
Single cancer diagnosis patients in north Wales, Cardiff and Swansea will be assessed by a "physical activity champion" under the year-long scheme.
Macmillan Cancer Support said research showed greater fitness reduces stress, fatigue and clinical dependency.
The charity said exercise could make all the difference to recovery.
The scheme is being trialed by Betsi Cadwaladr University Health Board, Abertawe Bro Morgannwg University Health Board and Velindre NHS Trust.
Among those taking part is Fiona Lamb, 80, of Blackpill in Swansea.
Miss Lamb, who was diagnosed with inoperable ovarian cancer last year, has been attending hydrotherapy and gym exercise sessions at the Wales National Pool.
"The hydrotherapy programme includes a series of muscle-strengthening exercises and keeps me exercising every Wednesday," she said.
"I enjoy it as I used to do a lot of swimming and it gives me the chance to meet other people in the same boat and have a good laugh with them."
Miss Lamb said prior to her diagnosis she had always kept herself fit.
"My cancer is inoperable, although I have been extremely lucky as I've had no real pain," she said.
'Bust the myth'
"In July I did a 5K fun run; I walked the first kilometre and the last 500m and my friend Eryl pushed me the rest of the way in a wheelchair."
Susan Morris, general manager for Macmillan in Wales, said new research showed that the message was still not being passed on to cancer patients about just how important it is for them to keep active.
"It's hard to encourage people to think about keeping active during and after gruelling cancer treatment but, increasingly, many patients will need our help to bust the myth that resting up is always the right thing to do, " said Ms Morris.
"Exercise is a 'wonder drug' which can make all the difference to recovery."