Gwent Levels drainage board trips 'contrary to law'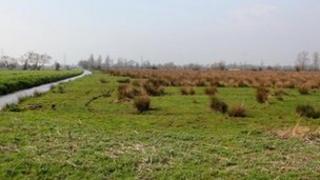 A public body responsible for making sure the Gwent Levels do not flood acted against the law when it arranged trips for members, staff and relatives, a watchdog has said.
The Caldicot and Wentlooge Levels Internal Drainage Board organised visits to Venice and Northern Ireland.
The Wales Audit Office (WAO) said the board was governed and managed ineffectively for years.
The board said it accepted the findings "without reservation".
It manages drainage systems on the Gwent Levels - an area of low-lying coastal land between Cardiff and Chepstow, south of the M4 and bordered by the Severn estuary.
Flooding
Valuable agricultural, commercial and residential land would be periodically flooded without well-maintained drainage, the WAO says.
It started an investigation in 2011 when former staff and members of the board raised concerns about value for money and probity.
In his report, auditor Anthony Barrett says: "In my view, the organisation lost sight of the fact that it was a public body.
"It failed to remember that it did not exist for its own sake but to serve those who work and live on the Gwent Levels."
In 2005, 37 people went on a three-day inspection visit to Venice. They included 13 staff and board members and 21 guests, mainly spouses or relatives.
Although it involved visits to wetlands and drainage works, the report says that the trip, which cost the board £4,333, was "primarily designed as a celebratory event".
Another trip to Northern Ireland for 28 people in 2008, which included a visit to a distillery and the Giants Causeway, cost more than £4,700.
In both cases, the auditor said: "I consider that such expenditure does not represent value for public money and is contrary to law."
The report says the board's former clerk and engineer, Dean Jackson-Johns, was involved in submitting proposals about his own pay to board committees.
It recommends that the board should consider whether to seek recovery of "salary overpayments".
In 2006 his salary rose from £55,228 to £65,553. By April 2010 it had risen to £83,122.28.
In a statement the board said it had made big changes from the organisation described in the report, with new managers and a new chairman in place.
Board chairman Derek David said: "Over the last year the board has initiated a programme of fundamental change that will soon be completed, particularly in relation to our business planning and performance management processes.
"We are a small organisation with limited capacity and resources and have had to ensure that to the board's core activities have continued to run effectively whilst also quickly implementing this programme of organisational improvement."
He added: "As board chairman I do not want the past failings and shortcomings to be ignored or swept under the carpet.
"We have learned some very hard and painful lessons about where things were inappropriate or simply wrong in the way we operated previously."
General manager Richard Penn said he had made "fundamental changes" in management and governance.
"I want to pay tribute to staff and board members for the commitment they have shown to this challenging programme of change," he said.
"It is of significance that the public interest report has only four recommendations, and that three of those ask the board to ensure that this programme of improvement is completed and then reviewed after a year to ensure the improvements are embedded."
Mr Jackson-Johns declined to comment when contacted by BBC Wales, saying he had not had an opportunity to read the report.