High streets free parking call by Welsh Tories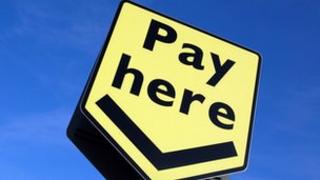 Free parking should be on offer to encourage shoppers into Wales' town centres, the Conservatives have said.
They want councils to publish annual reports showing how much they make from parking charges.
Meanwhile, the Welsh government said the recession and the changing role of town centres was a "major challenge" for regeneration policies.
The Tories also propose changes to the way business rates are calculated as a way to boost the private sector.
In a policy document on regenerating high streets, the Welsh Conservatives said free parking was one of the main attractions of out-of-town shopping centres.
Allowing people to park for free or at a cheaper rate at certain times would encourage people back to the centre of town, it says.
National strategy
A spokesman said there were no costings available for the policy as the party wanted to "encourage" local councils to offer free parking. It would help the economy by increasing footfall in town centres, the Tories say.
They also propose using free buses to and from business parks as a way to get people into town during lunch breaks.
In a report published in January, the assembly's enterprise committee called for a national strategy and for planning policy to be revised as a way to revive high streets.
In his response to the report, Regeneration Minister Huw Lewis said the Welsh government wanted to create vibrant town centres, but that they needed to diversify and could not solely rely on retail.
Mr Lewis published a consultation on the government's regeneration policy on Monday, which says out-of-town and internet shopping pose "a fundamental challenge to the retail-dominated role of our town centres".
It says policies will be directed at reversing economic, social and physical decline in places where the private sector cannot step in without the government's help.
"Our vision is that everybody in Wales should live in a vibrant, viable and sustainable community with a strong local economy," Mr Lewis said.
The Conservatives say their high street charter would guide businesses and local councils on how to manage town centres.
Longer walk
They repeated a call to increase the threshold at which businesses pay business rates, and promised a consultation into changing the way rates are calculated for small businesses.
Some councils, including Newport and Wrexham, have already tried free parking initiatives to encourage shoppers.
Les Byard, manager of St Tydfils shopping Centre in Merthyr Tydfil and also chair of the town's business club, told BBC Radio Wales that free parking would be ideal.
But he added: "But that often means town centre workers pinch all the best parking in the morning on their way to work and when the shoppers come in they're relegated to the more distant car parks , then its a longer walk which is not always ideal.
"So certainly an active parking strategy is important with perhaps some free parking, perhaps for a couple of hours at a time."