Qualifications review: 'Rigorous' Wales exam plans expected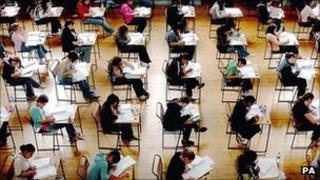 An independent report is to be published outlining whether Wales should retain GCSEs and A-levels.
The 14-19 qualifications review, which is due later on Wednesday, is expected to include proposals for creating a rigorous exams system for teenagers.
It has also looked at the future of the Welsh Baccalaureate and whether it should be given more significance.
The Welsh government intends to produce an official response to the report early next year.
The review board is made up of teachers, college principals, a university vice-chancellor and business people.
They have asked whether GCSEs should be replaced by a new qualification and to what extent Wales' exam system should diverge from the rest of the UK.
Until now, Wales, England and Northern Ireland have shared qualifications and a three-country system of regulating exams.
But a row over the grading of GCSE English papers this summer highlighted growing differences.
Welsh Education Minister Leighton Andrews ordered a regrade after a review found this year's results had been "unfair" to pupils.
Appeals for a regrade in England were turned down by the exam regulator Ofqual.
UK Education Secretary Michael Gove announced a shake-up of exams in England in September. Under his changes, GCSEs will be replaced in core subjects by a qualification called the English Baccalaureate Certificate.
'Very strong brand'
It will mean a single end-of-course exam and one exam board for English, maths and science, with the first exams sat in 2017.
Owen Hathway, policy officer for the NUT Wales teaching union, said: "Today's announcement will be a significant and important moment for education in Wales.
"It is important, first and foremost, that there is confidence in the quality of qualifications that students in Wales undertake.
"That has to start with ensuring there is confidence in them from those teaching in the classroom."
Mr Andrews has previously described GCSEs as a "very strong brand" and said the UK government's decision to replace them in England was a "backwards step".