Review of 2012: Changes and much tweeting in Parliament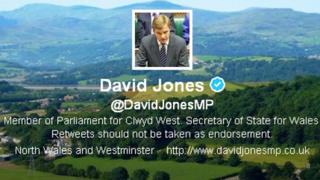 David Cameron once declared that he wouldn't sign up to twitter because "too many tweets make a twit". Or something like "twit".
But if you wanted to keep pace with some of the key Welsh figures at Westminster this year, you needed to keep across your twitter feed.
Cheryl Gillan revealed her sacking as secretary of state for Wales by changing her biography and photograph on twitter. The choice of an image of a Welsh mountain black sheep (one of two she owns) left a few non-Welsh hacks nonplussed while the rest of us reported her departure.
The prime minister said he wanted a Welsh-based MP in the job. Her replacement, her deputy David Jones, appeared to let the cat out of the bag by tweeting "well I'll be darned" on the eve of the public announcement, although he said this was a private message on another subject.
Few in Welsh politics tweet as much as Mr Jones, who can rarely resist the temptation when travelling between his home in north Wales, Westminster and Cardiff Bay.
His staff now refer to the "jinx of Jones" as so few of the trains he boards arrive on time, leaving him to tweet along the lines of: "I was supposed to be at home 10 minutes ago. Instead I'm sitting in a pub in Shrewsbury. It's a nice pub, but that's not the point."
En route, little escapes Mr Jones's eye or ear: "Someone should tell the recorded Arriva trains announcer that the last syllable of "Ruabon" doesn't have a Gallic nasal inflexion."
When not tweeting (he did give it up for Lent), Mr Jones has tried to move the department's focus on from "dotting constitutional i's and crossing constitutional t's" to promoting economic growth. He has surprised (disappointed?) opponents who thought he would pursue a public anti-devolution agenda in the job.
The Wales Office gained its first Liberal Democrat minister in the reshuffle - Baroness Randerson - and now has as many ministers as the old Welsh Office did when it ran Wales pre-devolution. Two of the new arrivals - Lady Randerson and Tory MP Stephen Crabb - are unpaid, although Mr Crabb receives a salary as a government whip.
The Wales Office may now have a Lib Dem minister but, like other departments, it has been affected by coalition tensions. Deputy Prime Minister Nick Clegg's move to block or delay plans to (among other things) cut the number of Welsh MPs from 40 to 30 threatens a Wales Office green paper to change the way members of the National Assembly for Wales are elected.
There was change, too, on the opposition benches at Westminster. Peter Hain stepped down as Labour's shadow Welsh secretary to be replaced by the Pontypridd MP Owen Smith. Mr Hain hopes to persuade the UK government to give the go-ahead to a barrage across the Severn - its backers hope for a decision in the first half of 2013 although it will have to overcome strong opposition.
The Silk commission reported, raising the prospect of the Welsh government being able to vary tax rates, initially in areas such as air passenger duty but, after a referendum, income tax too. The UK government will give its response next Spring.
Next year may be largely election-free but it won't be quiet. An inquiry into a previous inquiry into child abuse in north Wales is due to report, as is another inquiry into the way police handled allegations of child abuse.
And in Welsh politics, there's always another committee investigating the constitution. We've lived through the Richard commission, the all-Wales convention, and the Silk commission part one. Part two of the Silk commission - on the Welsh assembly's powers - is under way; don't forget, either, the McKay commission set up to look at the impact of devolution on the House of Commons - i.e. to find an answer to the West Lothian question of why Welsh MPs can vote on (for example) the NHS in England while English MPs have no say over the NHS in Wales..
Oh, and in other news, in October David Cameron joined twitter.