Royal commission-Cadw merger opposed, inquiry finds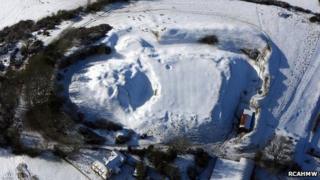 There is overwhelming opposition to plans for a shake-up of the body that investigates historic sites in Wales, Assembly Members have warned.
Heritage Minister Huw Lewis wants to merge the Royal Commission on the Ancient and Historical Monuments of Wales (RCAHMW) with the Welsh government's conservation service Cadw.
But an assembly committee found unease among academics and heritage group.
Mr Lewis says change is needed to withstand an era of spending cuts.
The commission has been investigating historic buildings and archaeological sites since it was founded in 1908.
Its archive in Aberystwyth houses millions of pages of documents and images on Welsh heritage.
Mr Lewis has said he is concerned "about the resilience of the historic environment sector given the unprecedented financial pressures that will be facing the sector over the next few years".
Having decided the "status quo is not an option", he is expecting a business case by March on merging the commission with Cadw within the Welsh government. A white paper on a heritage bill, which will pave the way towards legislation, will follow.
But critics are concerned about the implications for the commission's independence.
Former commission chairman Professor Ralph Griffiths, of Swansea University, told Sunday Politics on BBC Wales: "If the proposal is to take it into the government itself - which is becoming a trend nowadays - that would lose its arm's-length quality and the confidence which people feel in it."
Prof Griffiths was among 83 witnesses who gave evidence to the assembly's communities committee.
In a letter to Mr Lewis, the committee says some respondents believed there could be theoretical advantages to the shake up.
"However, at least numerically, there was overwhelming opposition to the prospect of the functions of the RCAHMW being merged with the functions of other organisations, including Cadw - particularly if that was to take place within the Welsh government itself."
'Control freakery'
Liberal Democrat AM Peter Black, a committee member, said: "We are very puzzled because it seems that all the advice that we have received as a committee and the majority of advice he has received as a minister is saying to him 'you should merge these bodies outside of government'.
"And I'm just concerned that this is an ideological decision, the Welsh government once again centralising everything to itself, control freakery, we have to control these bodies, they have to be under the direct control of the minister."
In its own evidence to the committee, the commission, which receives about £2m a year from the Welsh government, talks about "crude asset-stripping" by Cadw.
In a statement it said: "We fully support the minister in airing options with a view to ensuring the future resilience of historic environment bodies under declining government funding.
"We are proud of the Royal Commission's contribution to Welsh life over the past 105 years and hope that a robust and transparent examination will identify the best model for its services in future."
Asked why he was determined to press ahead, Mr Lewis told the programme: "Needs must.
"I think we are in a situation where everyone that has been close to this debate - and I've had a working group looking very deeply at these issues since last May, so we've considered this very carefully - everyone that is involved in the debate that is close to it recognises that the status quo is not an option at the moment.
"If we are to have a resilient historic environment sector in Wales, we need change to happen."
Mergers have been proposed in the past and a similar merger has taken place with the equivalent bodies in England.
However, a previous heritage minister, Plaid Cymru AM Alun Ffred Jones, said he was not convinced the commission needed to be brought in-house and that the commission "guarded its independence jealously".
Mr Jones: "I think the minister probably is under some pressure from his own department and from Cadw.
"I think there is a feeling that it's nonsense to have two bodies operating vaguely in the same area. So he will be under some pressure from within."
The Sunday Politics Wales can be seen from 11:00 GMT on BBC1 Wales on Sunday.