Doctors' funding row with BMA settled by Welsh government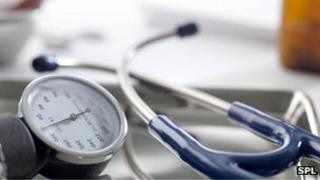 The Welsh government says it has reached a deal with doctors' leaders over a 1.5% funding increase for GPs.
It follows a dispute with the British Medical Association (BMA) over the services they deliver.
Talks about changes to the GPs' contract had stalled, with the BMA last year claiming many of its members were "work-load saturated".
BMA Wales said it was pleased to have reached agreement on the "initially unacceptable changes proposed".
Health Minister Lesley Griffiths thanked GPs for their commitment to the NHS and said the agreement allowed both sides to work together on improving services for patients.
"The Welsh government has listened carefully to the concerns expressed by GPs about workload implications whilst emphasising the need to accelerate the pace of change within primary care," she said.
"Our five year plan for the NHS, Together for Health, is based around community services with patients at the centre, and places prevention, quality and transparency at the heart of healthcare.
"Providing more care and support within the primary care setting is key to this."
The changes to the contract were recommended by NHS watchdog the National Institute for Health and Clinical Excellence (Nice).
But the BMA previously warned that hitting targets, for example on seeing patients with high blood pressure, would mean doctors have less time available for increasing access for other patients.
The association says GPs in Wales work an average 46 hours a week for an average income of £92,000, about £83,000 of which comes from the NHS.
BMA Welsh GP committee chairman David Bailey said the agreement avoids "skewing" the GPs' work from patients towards "too much emphasis on targets".
He said: "The Welsh government has indeed listened to GP concerns and entered into constructive dialogue.
"We have also agreed to further dialogue about variable funding to give proper consideration to the concerns particularly of small and rural practices.
"We agree the key to sustainable services in NHS Wales is investment in primary and community care.
"I hope we continue to have sensible consultation in the future rather than the problems we see over the border in England."