Alcohol-related death rate higher for women in Wales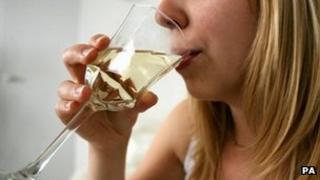 Women in Wales are more likely to die from alcohol-related causes than women in England, according to official figures.
The Office for National Statistics says 9.5 women per 100,000 died from alcohol in Wales, compared to 7.6 in England.
Alcohol-related deaths for women in Wales peaked in 2007 and in England in 2008.
Deaths for Welsh men have fallen, but throughout the UK men are still twice as likely to die due to alcohol.
In 2011, about 66% of the 8,748 alcohol-related deaths in the UK were men and around 33% were women, the ONS said.
In England and Wales, excessive drinking accounted for 1.5% of all deaths.
Alcohol-related causes include liver disease and alcohol poisoning.
Eric Appleby, chief executive of charity Alcohol Concern, said: "If these numbers of people died in any other way we'd consider it a national emergency and take immediate action to stop it from happening."