Pearls of wisdom like 'gold dust' at Welsh assembly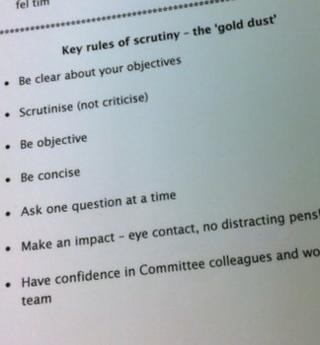 Ask one question at a time, make eye contact and don't distract people with your pen.
It might sound like pretty straight forward advice for someone whose job is to ask questions.
But to members of the Welsh assembly, these pearls of wisdom are the "gold dust" that will help them do their jobs better.
A group of AMs has been given pointers on how to ask questions when trying to get information from witnesses.
The seven "key rules of scrutiny" were printed on laminated pieces of A4 paper and given to AMs on a cross-party committee.
They also remind members to be concise and work as a team.
It follows a decision to spend £10,000 on training sessions for AMs.
During the sessions AMs were trained on how to question ministers and received advice on how to sit and dress.
The printouts were meant to remind members of the Enterprise and Business Committee about the advice they received.
They contain seven bullet points under the heading "Key Rules of Scrutiny - The Gold Dust".
Committee chairman Nick Ramsay said: "They have not cost anything - they are just laminated cards.
"I am sorry if someone thought it was patronising. I just thought it was helpful."
An assembly commission spokesman said: "The cards were distributed in response to the chair's request for members to have a reminder of the 'gold dust' from the session to ensure they are putting the learning into practice.
"The assembly is by no means unique in its approach to the parliamentary support it provides."