Green belt needed to separate Cardiff and Newport, councillors say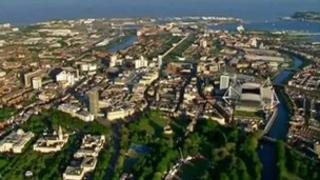 Newport councillors have called for a green belt in Cardiff to keep the two cities separate.
They fear plans to develop the capital could threaten Newport's identity.
In response to Cardiff council's local development plan, a Newport council report asks Cardiff to create a "green belt" on land directly east of Pontprennau in north east Cardiff.
Both councils say there is no appetite to merge, but a south east Wales city region is being looked at.
Cardiff Council could build 2,000 new houses in Pontprennau over the next decade.
Without a physical barrier, Newport councillors are concerned it may threaten the gap between the two cities.
Identity issues
John Rutledge, better known as Eggsy from the Newport-based rap group Goldie Lookin Chain, has been writing about Newport for years.
He thinks a combined Newport and Cardiff is inevitable, and would be good for his home town.
"No matter what you try to do physically, I think Newport and Cardiff will end up merging.
"That's fine because I think identity is something that people keep to themselves anyway.
"I don't have a problem with Cardiff and Newport merging.
"I think essentially it could be a good thing - change has to happen and I think change could be a really good thing for Newport, especially now."
Cardiff-based folk singer Frank Hennessy views the two cities as siblings, but without a shared future.
"I really think there's this sort of strange 'big brother' relationship - not in an Orwellian way - but genuinely a big brother, and a slightly smaller brother.
"But you have to have a bit of a green belt, a bit of a no man's land I suppose."
'Distinctive'
Both councils say there is no appetite for the cities to merge, but the notion of a south east Wales city region, driven by Cardiff but including Newport, was proposed by an expert panel reporting to the assembly last July.
However, Cardiff North AM Julie Morgan has called for protection for land on the city's outskirts.
John Punter, professor of urban design at Cardiff University, says separation and competition between cities is the key to improvement.
He said: "What we want is for our cities to remain distinctive and different, compete by all means but let's not have a kind of clone city where things are more or less identical between one settlement and the next."
Cardiff council recently revealed plans a proposal to build 45,000 new homes in its draft Local Development Plan (LDP) preferred strategy.