Welsh Secretary walks and talks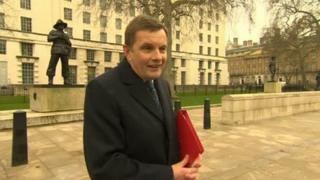 A postscript to last week's "Jones the Jag" affair. Last week I speculated that after the media coverage generated by his chauffeur-driven 100m dash, Welsh Secretary David Jones might travel to this week's cabinet meeting on foot.
But nothing is certain in this life. At 8 o'clock this morning a familiar Jaguar was parked in the middle of Whitehall opposite the entrance to the Wales Office. Around 45 minutes later, the Jaguar was driven away with no ministerial passenger to be seen.
Fifteen minutes after that, a minister familiar to readers of the UK's best-selling newspapers emerged from Gwydyr House - on foot. Carrying a red A4 file, David Jones made his way along Whitehall, stopping for a chat (in Welsh) with a BBC colleague.
"I'm walking today," he told her. "I go in the car from time to time." Mr Jones assured my colleague that if she wanted a chat she was welcome to come out of the cold into the office.
The charm offensive continued outside the gates to Downing Street, where the minister bumped into the photographer behind last week's pictures, Steve Back, and offered him a warm handshake.
It's debatable which of them is more in the other's debt: David Jones for helping Mr Back's retirement fund or Steve Back for giving Mr Jones's UK-wide profile something of a boost.
The secretary of state's profile may, however, take a dip over the next 40 days as he has decided to give up twitter for Lent.
Fortunately, his deputy Stephen Crabb is still tweeting, despite nursing a spectacular black eye incurred while playing rugby for Lords and Commons ministers against an Irish parliament team at the weekend. I'm sure the clash was accidental but you can't be too careful with these politicians.