Organ donation: Wales government 'misled' assembly, says expert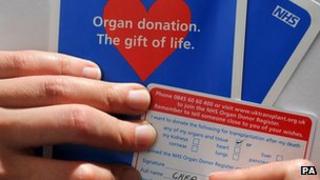 A donor expert has accused the Welsh government of misleading the assembly over its "opt-out" organ donation bill.
John Fabre, professor of clinical sciences at King's College London, said the policy was misinterpreted based on information from Spain's opt-out donation system.
He has written to the assembly health committee.
The Welsh government claims Spain said legislation was part of its opt-out success.
The Human Transplantation Bill, which could become law by 2015, would mean adults living in Wales would have to "opt-out" of the organ donation system if they did not want to donate after death.
Currently, people have to actively "opt-in" to become a donor.
Prof Fabre, the author of several papers on international systems of organ donation, claimed Spain's high donation rate was as a result of the available facilities and coordination in the Spanish health service, not the result of legislation.
The Welsh government has stated presumed consent legislation in Spain has driven-up its organ donation levels.
In a memo, it said: "Differing outcomes across countries with similar organ donation systems testifies to the myriad of factors that can impact on donation rates.
"For example, an opt-out system is operated in Spain and it has the highest donation rate in the world, with approximately 32 deceased donors per million population."
But Prof Fabre said: "To pass a bill with such a misleading statement is quite an undemocratic thing to do.
"I think what the Welsh government has to do, firstly, is issue an apology for the error and issue a corrected statement."
Prof Fabre said public awareness campaigns would be more effective in raising donation rates.
He said: "The way to do it is not to legislate for consent as the Welsh are trying to do, but to what the Spanish have done through public education, public relations and so on."
'International evidence'
But a spokesman for the Welsh government said Health Minister Lesley Griffiths did not agree with the professor.
He said: "There is a wide consensus in research papers which consistently categorise Spain as a country with an opt-out system and the Spanish government's own website points to the adoption of appropriate legislation as one element of the success of their model for organ donation."
The Welsh government said it wanted a system that was "right for Wales".
The spokesman added: "Our view has always been that legislation, backed up by a comprehensive communication package is the best way to influence societal behaviours, leading to organ donation being a normal part of society. This is backed up by the international evidence."