Horsemeat scandal: Minister urges retailers to reassure customers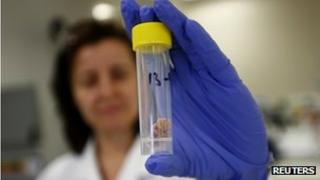 Retailers should "take a more proactive role" to reassure customers that food is safe in the wake of the horsemeat scandal, Wales' farming minister says.
Alun Davies, the deputy minister for agriculture, told AMs he had confidence in the food chain and there was no evidence of a risk to human health.
He said food was being tested across the whole supply chain.
It includes products for supermarkets and those being supplied by caterers for schools, hospitals and prisons.
In a statement to the Senedd on Tuesday, he said: "I would like to see retailers taking a more proactive role in reassuring their customers that there is a robust system in place which ensures their safety and which underpins confidence in their products."
'Very safe'
Mr Davies said the Food Standards Agency (FSA) had assured him there was no evidence to suggest that any recalled products were a safety risk.
He said the scandal was "a matter of mislabelling and potential criminality for economic gain".
"There's no evidence of any systemic problems within the food chain," he said.
Mr Davies added: "Food in the United Kingdom is very, very safe. Consumers have every reason to have every confidence in the food that they buy and the food they provide for their families."
Conservative shadow environment minister Russell George said: "It is clear that an improved and rigorous testing regime is going to be at the heart of restoring industry integrity and public confidence.
"The minister must now work closely with local authorities to strengthen inspection, sampling and analysis."
Three men have been arrested on suspicion of Fraud Act offences.
Two men, aged 64 and 42, have been arrested at Farmbox Meats Ltd, of Llandre near Aberystwyth. One is believed to be the owner, Dafydd Raw-Rees.
A 63-year-old was arrested at the Peter Boddy Licensed Slaughterhouse in West Yorkshire. Both firms deny wrongdoing.
Dyfed-Powys Police say the three men have been released on bail until April.