Unemployment in Wales rises by 6,000 to 127,000 - ONS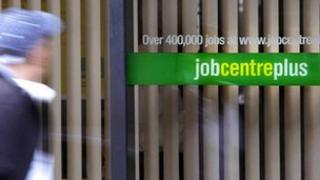 Unemployment in Wales has risen by 6,000, in contrast to the UK jobless total which fell, official figures show.
The number of people out of work in Wales increased to 127,000 during the last three months of 2012, the Office for National Statistics (ONS) says.
But across the UK, unemployment fell by 14,000 over the same period.
Wales' unemployment rate of 8.6% is also higher than the UK unemployment rate of 7.8%.
In the same period last year, unemployment in Wales fell to 124,000.
UK government Welsh Secretary David Jones said the figures showed the need for a "consistent and focused effort on creating the right environment for jobs and growth".
He welcomed the fall in the claimant count, but called the figures "clearly disappointing".
"These figures underline just how important it is that the United Kingdom and Welsh governments work closely together and align their policies to attract more investment and opportunities for businesses both domestically and internationally.
"An all-Wales approach must be pursued to ensure that Wales' benefits from the improving labour market picture we see on an UK level."
Welsh government Business Minister Edwina Hart said the figures showed economic conditions "remain difficult due to the unstable global economy, and spending cuts imposed by the UK government, which will not support employment and growth".
She cited a number of employment creation programmes run by the Welsh government and added: "Although we do not hold the major macroeconomic tools, as a government, we are doing everything we can to get people back into work by investing in jobs and training opportunities."
Janet Jones, of the Federation of Small Businesses, said the Welsh figures were a worrying contrast to the whole of the UK.
"This significant increase is particularly disappointing following the downward trend of recent months in Wales, and shows how volatile the employment market continues to be.
"We know that small firms are more likely to hire the unemployed than larger companies - but SMEs (small and medium-sized enterprises) are constrained by issues like lack of finance to be able to flourish."