Plaid Cymru wants more powerful assembly 'without delay'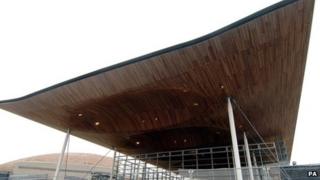 Plaid Cymru says there should be no delay in devolving wide-ranging powers to the Welsh assembly, including over criminal justice, broadcasting and energy.
The party made the call in its submission to the Silk Commission.
Set up by the UK government, the commission is taking evidence on the future of devolution.
Plaid, whose long-term ambition is for an independent Wales, said it wants to "clarify" what the assembly can do.
In its evidence to the commission, Plaid said new powers over the police, rail infrastructure and food safety should be devolved to Cardiff.
Many of the transfers could be achieved without legislation, it said.
However, legislation would be needed to create the Scottish-style devolution settlement that Plaid said would give the assembly a broader range of powers.
The party said it would make it less likely that legislation passed by the assembly ends up in the courts.
Last year the Supreme Court ruled in the Welsh government's favour when the UK government claimed a piece of legislation to reform local bylaws went beyond the assembly's powers.
Plaid's Westminster leader Elfyn Llwyd said: "As there is no good reason to delay these proposals we should have a Government of Wales Act as soon as practicable so that the next Welsh government can use these powers for the benefit of the people of Wales."
Plaid's submission comes a week after the Welsh government listed the additional powers it wanted.
First Minister Carwyn Jones said his administration should be responsible for policing and, eventually, the rest of the criminal justice system.
The cross-party Silk Commission is taking evidence for its second report which will look at the scope of the assembly's powers.
Its first report, published last year, said the Welsh government should have some powers to vary taxes.