BBC Cymru Wales poll finds hospital changes opposed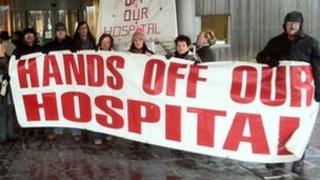 Public opinion appears to be hardening against changing the way hospital services are delivered, a poll for BBC Cymru Wales suggests.
Three quarters of people responding wanted district general hospitals to keep the current range of services.
Fewer than a quarter of those polled said patients should leave their local area for care, even on quality grounds.
But an NHS leader has insisted change is necessary claiming health service resources are being spread too thinly.
Local health boards have been drawing up proposals to shake-up services, some of which have sparked protests.
Welsh government ministers have said district general hospitals (DGHs) will not be downgraded, but have insisted that services must change in order to be "safe and sustainable".
First Minister Carwyn Jones has even warned the health service will "collapse" without reform.
However, the ICM/BBC Cymru Wales poll of 1,000 adults found 74% thought it was important for DGHs to continue to provide the current range of services to the local community.
When asked whether patients should be prepared to travel outside their local areas if it meant the quality of some services improved, only 23% agreed.
A separate poll conducted by YouGov for the Welsh NHS in November last year found a narrower split between the 57% of people who were totally opposed to concentrating services in fewer, larger hospitals and the 29% who strongly supported the idea.
Welsh NHS Confederation director Helen Birtwhistle said the health service could not continue to provide all the services currently on offer in every district general hospital.
"We can't spread our resources thinly any longer," she said.
"We're struggling in terms of the numbers of patients that are seen so that means that people can't keep up their skill levels.
"We're struggling in some places with the numbers of doctors and specialist staff, and the fact that we're spreading everybody far too thinly over far too many sites means that people are simply not getting the best quality service that they can expect and should be demanding.
"And we are adamant that services must change, and the reason they must change is to improve the quality of those services for patients."
ICM also found:
36% of people wanted a more powerful Welsh assembly, 20% thought the institution should be abolished and 9% thought Wales should be an independent country outside the UK.
66% thought the assembly should have at least some tax-varying powers.
47% said the Welsh assembly should be responsible for policing, 27% said it should remain with the UK government and 21% said it should be the responsibility of local councils.
Carwyn Jones had by far the highest approval rating among Welsh and UK political leaders. 55% thought he was doing a good job, compared to 21% who said he was doing a bad job - an approval rating of plus 34 points. David Cameron scored -22, Ed Miliband -19 and Nick Clegg -42. Welsh Conservative leader Andrew RT Davies scored -5, Welsh Liberal Democrat leader Kirsty Williams plus 2 and Plaid Cymru's Leanne Wood plus 14.
46% of people thought Wales was getting its fair share of UK government public spending cuts, while 36% thought Wales was being hit harder than it should.
ICM spoke to 1,000 Welsh adults on the phone between 20 and 25 February.