BBC Cymru Wales poll: Stable support for more devolution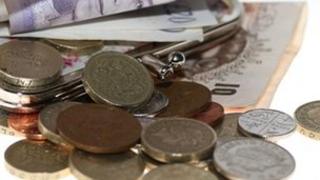 The public appetite for further devolution has remained largely unchanged over the past year, a poll for BBC Cymru Wales suggests.
There was no change in support for giving the assembly more powers.
The proportion of people who said the Welsh assembly should have at least some powers over taxes has remained broadly stable at around two-thirds.
The poll also suggested ministers have a big challenge to convince the public about the need to reform hospitals.
BBC Cymru Wales' annual St David's Day poll by ICM found 36% wanted the assembly to have more powers - the same figure as 2012.
Twenty-eight per cent thought its current powers were sufficient, compared to 29% last year.
The proportion of people who want the Welsh assembly to control all taxes rose slightly from 28% to 30%.
Those who thought that some tax-varying powers should be devolved, but only within limits agreed by the UK government, remained at 36%.
Tax powers
Thirty-one per cent said the assembly should have no powers over taxation. Last year it was 32%
This year's poll comes in the wake of the first report by the all-party Silk Commission, published last November.
The commission said there should be a referendum on whether Welsh government ministers should be able to vary income tax.
The commission, set up by the UK government, is now gathering evidence for a second report on the devolution settlement.
In its submission to the inquiry, the Welsh government called for powers over policing to be devolved to Cardiff.
Asked what level of government should have the most influence over policing, 47% said it should be the assembly, compared to 27% who said the UK government and 21% who said local councils.
Support for Wales to become an independent country outside the UK remained weak, rising from 7% last year to 9% this year.
There was a slight fall in support for abolishing the assembly, from 22% last year to 20%.
First Minister Carwyn Jones emerged as the UK or Welsh political leader with the strongest approval rating.
Fifty-five per cent said he was doing a good job, 21% said he was doing a bad job and 24% did not know.
He was followed by Plaid Cymru leader Leanne Wood. A year into her leadership, 37% said she was doing a good job, 23% said she was doing a bad job and 40% did not know.
Asked about David Cameron, 32% said the prime minister was doing a good job and 54% said he was doing badly. Fourteen per cent did not now.
The Conservatives responded to findings on the NHS which revealed that 74% of people want district general hospitals to continue to provide their current range of services.
Asked by ICM whether patients should be prepared to travel outside their local area if it means better quality services, 23% disagreed.
The Tories said ministers must intervene in local health boards' proposals to reform services and make sure patients are not ignored.
A Labour spokesman said: "Change is never easy, however, we have consistently said the status quo is not an option and we believe that given the choice, people want and deserve safe and sustainable services for the future."
Plaid Cymru, which wants further devolution, said the poll's findings on a tax-varying assembly showed the party was "in tune with the Welsh public".
The Liberal Democrats said it would use the Silk Commission to call for the Welsh government to have "more accountability and responsibility" through powers on taxation.
ICM spoke to 1,000 Welsh adults on the phone between 20 and 25 February.