Hospital consultants working 'excessively long hours'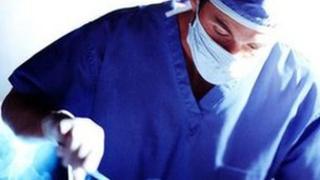 Some hospital consultants are still working excessively long hours, despite a contract that was supposed to deal with the problem 10 years ago by improving conditions, a report warns.
The Wales Audit Office (WAO) said one in six do at least 46.5 hours a week.
It said the "vast majority" of those work longer than the EU-wide working time limit of 48 hours.
A WAO survey found only 28% of consultants thought the contract had improved patient care.
The contract agreed in 2003 was supposed to lead to a better working environment, improve retention and recruitment, and tackle a culture of long working hours.
It originally set down a basic full-time week of 37.5 hours, in line with other NHS staff, although that was later relaxed.
Mandatory job plans were also introduced to allow consultants and their NHS employers to agree what they would do during a working week.
The Welsh government spent £35m making the changes between 2004 and 2011, but the WAO said not all the benefits that were hoped for have been delivered.
'Modernisation'
A survey found only 20% of consultants thought the contract and job planning had improved the way they work.
"Some consultants are still working excessively long hours," the WAO said.
"Broadly speaking, the amended contract has not been the significant driver for service modernisation as was originally anticipated."
Consultants worked an average 46 hours a week in 2004. By 2010 that was down to 42 hours.
The WAO said the NHS should make sure all consultants have a job plan and that it is reviewed annually.
Auditor General for Wales Huw Vaughan Thomas said: "The amended consultant contract has increased the number of consultants and the majority of them now have a shorter average working week.
"However, I am concerned that fewer than half the consultants questioned in the audit felt the contract has helped modernise the services they offer to patients, especially as this was one of its principal aims.
"My report emphasises that effective job planning for consultants is essential if the contract is to secure its intended benefits.
"I hope the Welsh government and NHS bodies adopt the clear recommendations in the report."
The number of consultants working in the NHS in Wales has risen under the new contract - reaching 2,316 in 2010 - and the number of vacancies has dropped.
A Welsh government spokesperson said: "We welcome the report's finding that implementation of the contract has had a real impact on increasing the numbers of consultants by a third.
"We expect the NHS to address any shortcomings in job planning urgently to improve patient care and outcomes."
Darren Millar, the Conservative AM who chairs the assembly's public accounts committee, said: "Given the significant sums of money that have been spent implementing the amended consultant contract in Wales since 2003, it is disappointing to see that some of the key expected benefits have not been fully realised."