'Zero-tolerance' threat to wipe out horse fly-grazing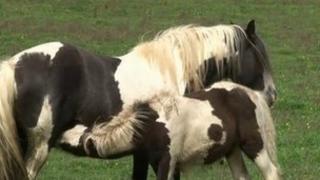 The Welsh government has threatened a "zero-tolerance approach" against people who abandon horses.
It is asking whether laws need to change to find a lasting solution to a growing problem of fly-grazing.
Local councils have found it difficult to enforce existing laws to deal with people who leave horses to graze on other people's land without permission.
Ministers launched an eight-week consultation, which asks whether existing legislation was working.
The document says more incidents are being reported, with some authorities seeing a 200% increase.
Since November 2011, South Wales Police has recorded more than 1,500 incidents of loose, abandoned and fly-grazing horses.
In the same period, Bridgend and the Vale of Glamorgan councils, the fire service and the police spent £1.2m dealing with the problem.
Councils only recoup a fraction of the cost of rounding up fly-grazing horses, which are then either given to charities or sold at auction.
The Welsh government says charities no longer have space to re-house the animals.
Deputy agriculture minister Alun Davies said most of the incidents occur in Cardiff, the Vale of Glamorgan and Bridgend.
"The Welsh government vision is for a fly-grazing free Wales," he said
"A zero-tolerance approach will ensure that Wales is free from the unacceptable social, economic and environmental harm caused by the nuisance of fly-grazing.
"With no one single piece of legislation to address the issue the consultation seeks views on how the Welsh government might deliver measures to provide uniformity of standards across Wales, a legal framework enabling enforcement authorities to effectively deter large scale incidents of fly-grazing or abandonment of horses and ponies."