Silk Commission: Mixed reaction over devolution power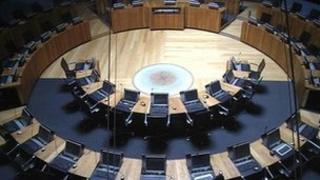 Politicians have given a mixed reaction to the UK government's belief that there is not a case for "radical" changes to Welsh devolution.
The Conservative-Lib Dem coalition told the Silk Commission, which is looking at the scope of the Welsh assembly's powers, that arrangements were largely satisfactory.
The coalition's 114-page document says responsibility for policing, broadcasting and large energy projects should remain at Westminster, but teachers' pay and rail franchising could be devolved.
The commission, set up by the UK government, has already published a first report which said the assembly should have some tax-varying powers.
Last month the Labour Welsh government called for the devolution of policing and, in the long term, criminal justice.
After the UK government's submission to the commission, a Welsh government spokesman said: "We will read the UK government's evidence with interest, but of course it must be for the Silk Commission to form its own view on the issues which it raises.
"We will be happy to assist the commission further as necessary."
Last week the Conservative group in Cardiff Bay argued powers over energy, broadcasting and public holidays could be devolved.
The group's spokesman said its submission "contains proposals to improve the lives of the people of Wales".
"It looks very closely at the need for fiscal responsibility, backs up longstanding manifesto commitments and includes an innovative proposal for broadcasting," he said.
"The commission on devolution, which was set up by the UK government, has done excellent work to date and we now look forward to further recommendations in the future.
"Unlike the Labour group, which has failed to make a submission, our document makes Welsh Conservative group views very clear. "
'Dysfunctional status quo'
Welsh Liberal Democrat leader Kirsty Williams said Wales needed "a proper functioning parliament with additional responsibilities to create a stronger economy in a fairer society".
"We need a new model of devolution which clearly defines what is devolved and what is not, as in Scotland," she said.
"It is for this reason that establishing the independent Silk Commission, able to weigh up all the evidence, was so important.
"The UK government has today said that it is open to proposals, supported by robust evidence, to strengthen devolution.
"I believe the case submitted by the Welsh Liberal Democrats and others on the need for radical change will stand up to scrutiny, in contrast to the inadequate, messy, and at times dysfunctional status quo," Ms Williams added.
Reacting to the UK government submission on Twitter, Plaid Cymru MP for Carmarthen East and Dinefwr Jonathan Edwards described the document as "114 pages of drivel".
Plaid Westminster leader Elfyn Llwyd said the document was "further evidence that the UK government is completely out of touch with public opinion given that consecutive polls in Wales have shown a growing appetite for greater autonomy".
"The evidence also reveals the lack of consensus between the ConDems in Westminster and their colleagues in Cardiff who have been completely undermined by today's publication," he said.
"We now wait with much anticipation to hear whether Labour MPs from Wales are willing to endorse the Welsh Government's submission.
"In stark contrast to the unionist discord, Plaid Cymru's submission to the Silk Commission makes a united and convincing case for a fairer and more robust devolution settlement.
"We fully support the transfer of powers in all-important fields such as justice and policing, energy generation, broadcasting and transport in order to deliver greater transparency and accountability in a better Wales," Mr Llwyd added.