Deep cuts hamper economic growth, finance minister warns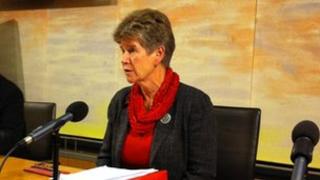 The Welsh finance minister says the UK government's public cuts and austerity measures have been too fast and deep.
Jane Hutt has joined forces with counterparts in the other devolved nations to call on the UK government to inject more cash into capital projects.
In a letter to Chief Secretary to the Treasury Danny Alexander they call for investment in infrastructure at next week's budget to stimulate growth.
The prime minister said changing course would plunge the UK "into the abyss".
Ms Hutt said: "The Welsh government's focus has continued to be on boosting growth and jobs but the UK government's cuts have been too deep and too fast and have hampered our efforts to boost economic growth.
"We have a range of capital projects that could be accelerated if additional resources were available so I would urge the chief secretary to the treasury and the chancellor to act now to provide a much needed boost to economic growth in Wales and across the UK."
Last week, David Cameron said changing course on the economy would plunge the UK "back into the abyss".
In a speech in West Yorkshire, Mr Cameron echoed Mrs Thatcher by saying "there is no alternative" to "sticking to the plan" on the economy.
The warning followed suggestions by Business Secretary Vince Cable that the government should consider borrowing more to kick-start economic growth.