Credit unions 'could close if funding withdrawn'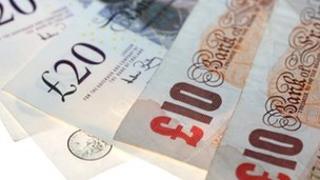 Some credit unions could close if Welsh government funding is withdrawn at the end of this year, a report warns.
Credit unions have been championed as a way for people on low incomes to save and borrow money instead of turning to loan sharks.
Members save money which is put into a central fund to provide loans at low interest rates.
The current phase of funding ends in December with nearly £5.5m being made available to support credit unions.
That money has come from the Welsh government and Europe.
There are 22 credit unions covering the whole of Wales providing services to more than 62,000 adults and young savers, 17 of which have had public funding.
Ministers have praised them as part of the effort to combat poverty and an alternative to payday and doorstep loans.
But a report, commissioned by the Welsh government itself, says ministers should take a more "ruthless approach" to get value for money if they continue to provide funding for credit unions.
'Unrealistic'
It says many of them will face "critical decisions" when funding expires at the end of the year.
"But there is widespread recognition that, with Welsh government funding expected to end in 2013, those credit unions which survive are likely to contract (in some cases quite considerably) while a small number of credit unions are likely to close," the report says.
But Labour AM Mark Drakeford told BBC Wales: "I think the Welsh government will look to continue to support the credit union movement in Wales.
"It may not be able to do it at the scale it has been possible to do so in the past and it may not do it in the way that it has done it in the past if it takes some of the suggestions the report makes.
"So on that score, I don't think we want to spread alarmist ideas of the future."
But he added ministers would have to ask "harder questions" in the future of those unions who were furthest away from financial sustainability.
As with banks and building societies, all savings held by credit unions are guaranteed up to £85,000 by the Financial Services Compensation Scheme.
Report writers Old Bell 3 found the "expectations placed upon credit unions were very high and arguably unrealistic".
The report also highlights a "disconnection" between the capacity of credit unions and the high aspirations placed on them to help improve social justice, economic development and even education.
'Ruthless'
The report added that if the government decides to continue to help after 2013 "it ought to take a more ruthless approach to ensure better value for money is obtained from the investment".
A spokesman for North Wales Credit Union said government funding helped provide services for vulnerable people who often turn to doorstep lenders or payday loans with high interest rates.
But he said it made a loss on loans less than £750 - around 80% of the loans agreed in 2012.
"In order for credit unions to be sustainable and continue to provide this service it must focus its current resources in attracting higher value loans to cross-subsidise the cost of low value lending," he said.
"The Welsh government needs to support credit unions in challenging the 'Poor Man's Bank' stereotype and help us engage with more mainstream borrowers and savers.
"Only in this way can the credit union truly become what it is, a member-owned community bank offering affordable services to everyone."
A Welsh government spokesman said credit unions play an important part in delivering on its commitment to tackle poverty and the report will be used to decide how best support them in the future.
"In the current financial climate the services that they provide are essential, especially in deprived communities.
"Through the Access to Financial Services project the Welsh government is providing financial support to credit unions so that they can help hard pressed families in our communities deal with the increasing pressures on household budgets."
And Bill Hudson, manager of the All Wales Credit Union support programme said unions have produced some impressive results with 54,000 adult members (up 30%) and 11,500 junior members (up 44%).
The key objective of the project has been 'to support the development of a strong, sound and effective credit union movement in Wales'," he added.
"The funding provided by the project has undoubtedly contributed to the significant growth rates achieved by Welsh credit unions helping them to establish solid business foundations from which they can grow.
Mr Hudson continued: "For the remaining period of the project we will continue to work with and support those credit unions that may be underachieving in their targets and where there are identifiable financial and operational weaknesses that need to be addressed."
Lib Dem AM Peter Black agreed with the report's findings.
"Credit unions are being asked to grow and become self-sufficient in money terms, and at the same time to help achieve the government's social purposes," he said.