Back to work for new-look Welsh government Labour cabinet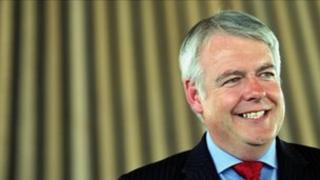 Welsh government ministers are starting work on their new portfolios after a surprise reshuffle by First Minister Carwyn Jones.
There is likely to be attention on new Health Minister Mark Drakeford who takes responsibility for controversial plans to reconfigure hospital services.
He replaced Lesley Griffiths, who was moved to the local government post.
Political opponents said it was time for a change in Welsh government health policy.
Three other big hitters kept their posts in the cabinet.
Leighton Andrews stays at education, Edwina Hart keeps the economy brief and Jane Hutt continues as finance minister.
No-one was dropped from the cabinet and apart from Mr Drakeford the only other promotion to the top table was Alun Davies - the new minister for natural resources and food who was previously the deputy minister for agriculture.
Huw Lewis becomes the minister for communities and tackling poverty. His old role as housing and regeneration minister goes to Mr Sargeant.
John Griffiths moves from environment to culture and sport.
Mr Jones said: "Jobs and growing the Welsh economy remain our number one priority, but we will also work tirelessly to improve the delivery of our public services."
Labour won power at the last assembly election in May 2011, although it fell one seat short of an outright majority.
The Welsh government used its Twitter account to break the news that a surprise reshuffle was under way on Thursday afternoon.
Mr Drakeford's appointment was the first to be announced.
Elected Labour AM for Cardiff West in 2011, he was previously chairman of the assembly's cross-party health and social care committee.
Health academic Prof Marcus Longley, director of the Welsh Institute for Health and Social Care at the University of Glamorgan, said Mr Drakeford was inheriting a difficult job at a difficult time.
"He is in the hot seat," he told BBC Radio Wales, adding that people had been complimentary about the work of Ms Griffiths.
"It's a good time to take breathe. It is a difficult job."
The Conservatives' assembly leader, Andrew RT Davies, said: "This could be a turning point for the Welsh NHS if the new health minister is willing to make an honest assessment of his predecessor's failings and correct them at the earliest possible opportunity."
Plaid Cymru AM Lindsay Whittle said: "It's all very well moving politicians, but it's the policies that you really have to reconsider and there is no evidence that there is going to be a reconsideration of the policies of (hospital) reconfiguration. That's what the people of Wales want."
Liberal Democrat AM Peter Black said: "Wales deserves better. Sadly, today's announcement is just the same old faces with the same old failing policies."