Plaid Cymru leader Leanne Wood will stand in Rhondda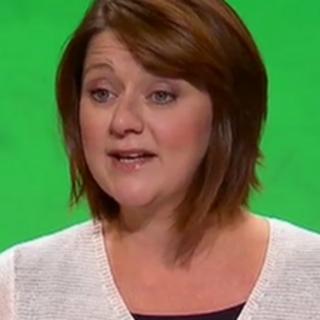 Plaid Cymru leader Leanne Wood has revealed she will stand in Labour-held Rhondda at the next assembly election.
She is a regional South Wales Central AM and candidates cannot stand on both the list and in constituency seats.
But the UK government wants to change the rules, and she is expected to take advantage of that and keep her name on the regional list if the ban is lifted.
However, Education Minister Leighton Andrews, who holds the seat, called her candidacy a "stunt".
Ms Wood, who is originally from Rhondda and still lives there, made the announcement in a speech to mark her first year at Plaid's helm.
The speech in Cardiff focused on the economy and call for the devolution of the benefits system.
But attention is likely to focus on her plans for the 2016 assembly election when she hopes to break new ground for her party in the south Wales valleys.
Rhondda is a traditional Labour stronghold, although Plaid won it at the first assembly election in 1999.
Ms Wood has stood for parliament in the seat and lost to Labour twice. Her selection as a candidate will have to be approved by local party members.
She told BBC Wales that the community where she had lived almost all her life was important to her.
"It's an area that faces major challenges which I think can be put right with the right set of policies under a Plaid Cymru government," she said.
"As things stand the ban [on dual candidacy] is still in existence. The ban was in existence when I made the decision to contest a constituency seat and until that is changed I'm working on the basis that we are where we are."
Her speech, which marks a year since she became Plaid's first female leader, set out economic policies to allow Wales to "thrive".
She said: "When I was elected as leader of my party I made it clear that I wanted to be judged on one issue and one issue only - the economy."
A party policy commission on the economy had highlighted five areas for "strategic intervention".
These include improving public transport, establishing a national energy agency, creating a publicly-owned Bank of Wales, devolving the welfare system and ensuring more public-sector contracts go to local businesses.
Mr Andrews, who beat Plaid into second place in 2011 with a 6,739 majority, said: "Standing in Rhondda is no more than a political stunt.
"It's clear that she plans to get back into the assembly on the regional list and the people of the Rhondda will soon see through that."