Leveson: David Jones cuts Japan visit for press regulation vote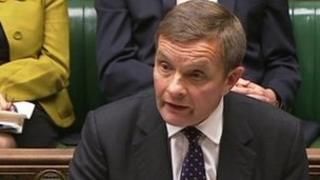 Welsh Secretary David Jones has been recalled from a trade mission in Asia for a vote on regulating the press.
He said he would wrap up meetings in Tokyo and return to the UK over the weekend.
It means he will be back in the House of Commons in time for the crucial vote on Monday.
It follows an announcement by Prime Minister David Cameron that talks between party leaders on the Leveson proposals had broken down.
Mr Jones arrived in Japan on Wednesday at the start of a trade mission to the Far East.
He was originally due to arrive back in the UK after the last leg of his visit in Hong Kong on 24 March.
A Wales Office spokeswoman said discussions were taking place on whether he would resume the mission at a later date.
He was also due to visit the Philippines and Vietnam.
'Free press'
On Friday Mr Jones visited the construction site of a new nuclear power plant and called on British company to seize opportunities to invest in the nuclear industry.
He said: "A free press is absolutely crucial to our society and I wholeheartedly support the prime minister on the measures he is taking to ensure we have a system of press regulation that will actually work.
"So I will be completing all of my meetings with Hitachi in Tokyo, before returning back to the UK in time for this important vote."
Labour and the Liberal Democrats support the statutory underpinning recommended by the Leveson report into misconduct by the press.
However Mr Cameron opposes the move and wants to establish a regulator by royal charter.
He halted cross-party talks on Thursday, with a debate and vote on his proposals due to take place in Parliament on Monday.
Labour is expected to table amendments designed to produce what the party describe as "a Leveson-compliant royal charter".