PCS strike to disrupt Welsh assembly on Budget day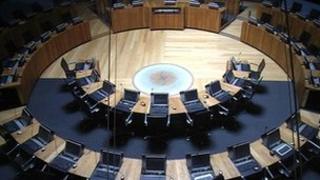 Meetings at the Welsh assembly have been rearranged because Labour and Plaid Cymru will not cross a picket line of striking public sector workers.
The Public and Commercial Services (PCS) union will take action on Wednesday - the UK government's Budget day - in a row with the coalition over job losses, pay and pensions.
AMs will sit for longer on Tuesday to get through next week's business.
But the Conservatives criticised their opponents for not crossing the picket.
It is understood the decision to rearrange meetings was taken by the assembly's cross-party business committee.
The only pieces of business tabled for Wednesday's plenary session in the Senedd are Tory motions which accuse the Labour Welsh government of "abject and persistent failure" in health, education and on the economy.
Questions to cabinet ministers, which are normally held on Wednesday afternoon, have been rescheduled for Tuesday.
It is not the first time a PCS strike has disrupted the assembly. Labour and Plaid members refused to cross a picket line in March 2010.
Spokespeople for both parties confirmed their members would not cross picket lines at the assembly this week.
It is not known whether Presiding Officer Rosemary Butler, a Labour AM, will be present. She told AMs recently that attending business should be their "top priority".
In a statement, the Assembly Commission - the all-party body that runs day-to-day business in Cardiff Bay - said: "The organisation of plenary business is a matter for the business committee.
'Donate a day's salary'
"In the light of the industrial action due to take place on 20 March and so that no business is lost, some items of plenary business that would otherwise have taken place on that day, have been rescheduled as shown on the business statement and announcement.
"This was discussed and agreed by all business managers at the business committee meeting on 12 March.
"Some formal plenary and committee business is scheduled for Wednesday 20 March and the services required to support that reduced level of business will be provided."
A Tory spokesman said Labour AMs should consider donating a day's salary to charity if they were going to be absent on Wednesday.
A Welsh Lib Dem spokesman said the party's AMs would be in work as normal and would be in the chamber.
The UK government has accused the PCS union of taking "futile action which benefits no-one", adding a public sector pay freeze had helped protect jobs.
The union wants 5% pay rises and is demanding the government scrap plans to cut pensions.